Updated: November 2022
Christmas is the best occasion to treat classical music lovers and musicians. There are plenty of celebratory classical music products out there, and coming the holiday, here are 10 great gifts ideas to celebrate Christmas.
All of our suggestions to Christmas presents for classical music lovers and musicians are available on our Amazon store.
1. Wittner Metronome
Most classical musicians at the beginning of their studies and even advanced players will tell that a metronome is an essential part of their training experience. A good metronome is something a student or a professional musician will enjoy for his or her rest of her life, and makes for a lovely Christmas present. The market is full of battery-operated metronomes and even mobile apps that tick away. But we recommend a mechanical metronome as a present; The German Wittner company manufactures metronomes in a traditional style, based on an early 19th-century model adopted by Beethoven. The Wittner catalog is full of metronomes of many materials and colors, but we recommend going for the traditional, wooden-case model – a long-lasting companion if treated right.
---
2. Bose Noise Cancelling Wireless Bluetooth Headphones 700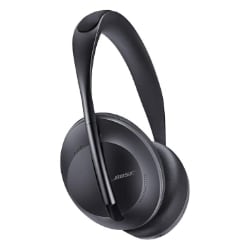 Classical music lovers will know that good audio equipment is essential. As we covered on our best wireless headphones for classical music article, the new Bose Noise Cancelling Headphones 700 is highly recommended, a successor to the well-received QuietComfort 35 model. The 700 model delivers better sound quality, very balanced and unintrusive that makes listening to classical music a joy. The new 700 model has few noise cancellation levels, incorporates few microphones for phone calls and virtual assistant technologies and ads touch control for playing music, adjust the volume, skip tracks and accept calls. The set arrives with a dedicated bag for travel and a USB C cable.
---
3. PageFlip Firefly Bluetooth Page Turner Pedal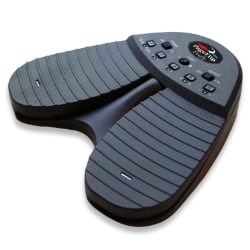 For classical musicians that read music from a tablet or a computer, there is one advantage – flipping pages do not require a helping hand or getting away from the instrument. Tablets, especially iPad and Android devices, make for a great printed-score replacement for those who want to carry all of their scores on a single device or save space when traveling. The PageFlip Firefly Bluetooth/USB Page Turner Pedal is a great companion for most of the score—related applications and is compatible with iPads, Android devices, and Mac or Windows computers. With a simple download and fast setup, players can turn a page with a single touch of the foot. The device can be connected wirelessly through Bluetooth and 2 AA batteries but can also be connected via the included USB cable. The device is durable enough to last for a long time, and will make many musicians who read scores digitally extremely happy to get as a Christmas present.
---
4. Amazon Echo Studio – Smart Speaker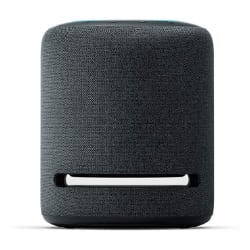 Not all classical music lovers have enough room for a real sound system or professional loudspeakers. For smaller rooms, the new Amazon Echo Studio gives a nice audio quality for its size, and will suit any room. For classical music, the Amazon Echo Studio will best be suited to modestly-sized classical music, such as piano or chamber music, but will give surprisingly good results even in classical music for larger ensembles such as orchestral and choral music. This is due to a new "immersive 5 speaker system" with Dolby Atmos technology and balance that adjusts to the room in real-time, resulting in a much more powerful sound than in the Basic Echo. In addition, the Echo is superb for podcasts and audiobooks. As to the Echo's features, it's compatible with many music streaming services such as Amazon Music, Apple Music, and Spotify, and can be controlled via Amazon's "Alexa". Advanced features include synchronization with smart home devices and intercom capabilities.
---
5. Zoom H2n Microphone and Accessories Bundle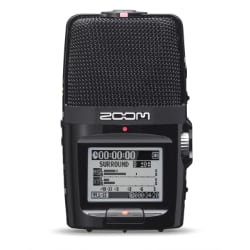 The H2N multi-purpose microphone is a great gift for classical musicians. This mic has few small speakers that can be adjusted to give a wider or narrower stereo sound-image, and is impressive in recording anything from spoken words to singing and instrumental music. This version also includes useful accessories like a small stand, hand-holder, "boomer" for talking and traveling case.
---
6. Essential Scores for Pianists – Bach's "Well Tempered Clavier" and Beethoven's 32 Sonatas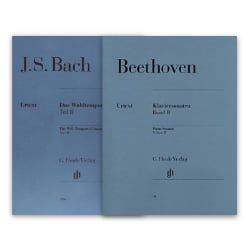 For pianists, there are two "bibles" of the classical music literature – Bach's 2 books of the "Well-Tempered Clavier" and Beethoven's 32 Piano Sonatas. Many students or amateur pianists or professional musicians download are and rather inaccurate scores over the internet, so a good verified edition can be a great present for Christmas. Henle is considered the leading publication for classical music scores. Their addition is meticulously edited based on musicological research and includes interring indications by expert pianists. Their four books of Bach's "Well-Tempered Clavier" and Beethoven's 32 Piano Sonatas will accompany any pianist for many years, and will undoubtedly be cherished for years.
---
7. Essential Beethoven – The New Complete Essential Edition (Deutsche Grammophon)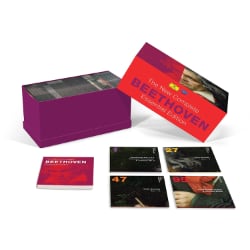 2020 marked the 250th anniversary of Beethoven's birth year. We have covered some of the albums released for the celebrations, but Deutsche Grammophon's package of the "essential" works by the composer offers superb quality and cohesiveness of repertoire, including some pieces both in period and modern instruments. As always with Deutsche Grammophon, the overall quality and artistry is at the highest order, and includes some of the best known classical music artists. The package includes 95 CDs and a lavish book and detailed documentation for each recording.
---
8. Music-Themed Socks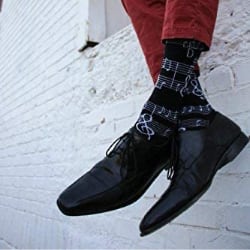 To add some fun to your list of gifts for classical music lovers (or to use as your fireplace stockings), take a look at the wide selection of socks with music themes, including notes, bars and instruments. The socks are available in multiple variations and colors and can be a great give for both children and adults.
---
9. Mahler – The Complete Works – Warner's 150th Edition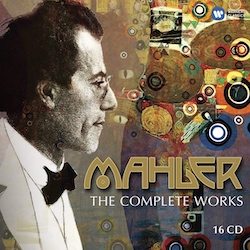 Numerous orchestras and conductors have recorded the complete Mahler Symphony cycle over the years, and many listeners may wish to have a cycle with a single orchestra and conductor. Yet this set offers a combination of orchestras and conductors with fantastic performances of the symphonies and orchestral songs, so both new and veteran Mahler fans will have a taste for different styles and approaches of performing this great music. Among the conductors are Giulini (Symphony 1), Klemperer (2), Rattle (3, 7, 10), Horenstein (4), Tennstedt (5, 8), and Barbirolli (6, 9).
---
10. The 50 Greatest Pieces of Classical Music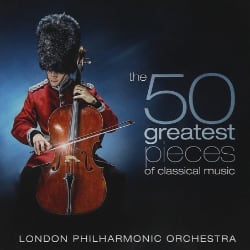 Not every classical music fan is an expert, and this set, one of the best selling classical music albums of all time, is a great place to start. It includes some of the most famous and well-recognized classical music pieces played by the London Philharmonic Orchestra under David Parry. This four-CD set is a perfect gift for a classical music fan that may want to expend his or her collection after getting familiar with these recordings.
---
For the full list of ideas for Christmas presents for classical music lovers or musicians visit our Amazon store.

Follow Us and Comment:
Sign Up For Our Classical NewsletterIt's free. And we don't spam.
Get our periodic classical music newsletter with our recent reviews, news and beginners guides.
We respect your privacy.