Advertisement / Publicité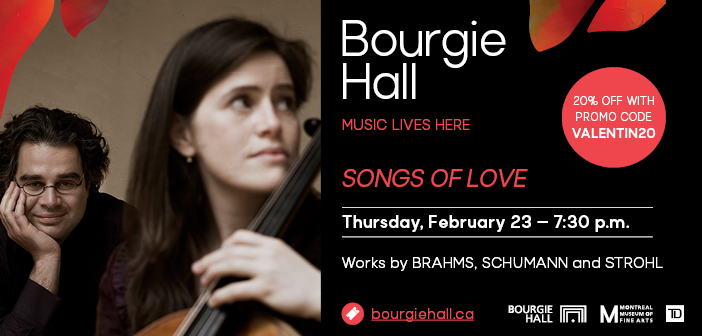 La Scena Musicale's Singing Valentines Fundraiser is back for its 13th edition, and we are here to spread the love. We have 20-plus amazing professional singers involved in this year's project. Previously, we have used this incredible service as a fundraiser for La Scena Musicale. This year we have a new objective: to show love to our community. "It's the most unique opportunity for connection," says Wah Keung Chan, founder of La Scena Musicale and creator of Singing Valentines.
SERENADES
People across Canada, and around the world, will be able to order our popular Singing Valentines Serenades. The professionally trained singers offer their time from Feb. 11 to 14 to spread the special gift of song and music this Valentine's Day.  This year, the power of song is being amplified. We have as the goal to provide 100 free serenades for seniors in our community. Visit our website to place the order by filling out the questionnaire order form, and we'll choose the singer and the song for you.
For any personalized order, if you choose a specific singer and song,  100 per cent of the proceeds go to the artist. For 2023, we are truly focused on the impact of our Singing Valentines. For a $30-$130 donation, you can provide your loved one with the romantic experience of a lifetime while supporting emerging talent. Personalized serenades are offered via phone, FaceTime, recorded video and Zoom to ensure good audio quality. Scan the QR code to discover the updated roster of wonderful singers.
Advertisement / Publicité
PURPOSE
While the arts sector is slowly recovering after the pandemic, it remains important to fully support the professionals in the industry—and organizations like La Scena Musicale who bring music and culture to you! Our singers also enjoy spreading the love to those who need it: "I believe everybody was super content, and I had good fun singing,"said Gino Quilico, who was part of our 2019 roster.
Love comes in many forms. A hot coffee on a snowy day. A partner's smile. An aria sung with passion. A connection on the phone between strangers.
We hope you have a delightful celebration of the love in your life this February.
If you are feeling inspired to spread the #LaScenaLove, considering donating to support our magazine.
"It has been a few years since I received such a wonderful gift from my husband… Hearing Deh vieni alla finestra was so much nicer than a card… Last month it made me cry in a very joyous way when the baritone called me, offering me the song my husband had chosen."
– Wendy Marston
www.mySCENA.org