[ad_1]

Welsh National Opera's new production can't really be said to be an opera, running as it does a gamut of styles, with Welsh hymns as cornerstones in a structure featuring jazz, popular music and doo-wop, as well as 19th-century French choral numbers. If David Hackbridge Johnson's score sounds like an unlikely patchwork, it is; yet the whole thing manages to work well as a show, bowling along with a warm, often suitably blazing, energy.
Set in a 1950s Welsh valleys mining community where the shadow of a recent colliery disaster darkens life, the story hinges on Dafydd Pugh, a pit foreman and former choirmaster, scarred by the loss of men on his watch, many of whom were his singers. Re-forming a choir under his baton is key to rebuilding morale – "to put the male back in the male voice choir" – and their bid for new glory. Jeffrey Lloyd-Roberts is a big presence in this central role, and, if he sometimes seems simply to be playing a larger-than-life version of himself – accent, big heart and voice, that's all to the good. His co-star, soprano Rebecca Evans, barely reaches his shoulder but, in Nerys Price, creates a complete character as the choir accompanist marshalling her men. The echo of Under Milk Wood is a nice conceit: Evans's Miss Price is a bolder version of Dylan Thomas's love-stricken Myfanwy Price, while this Mr Pugh harbours none of the poisonous intentions of his namesake.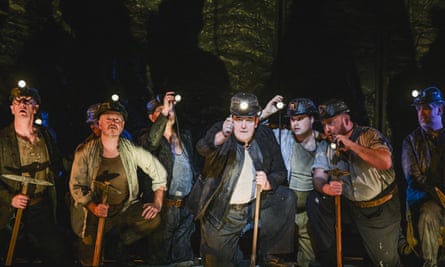 The joshing wit of choir practice – Adam Gilbert's Emlyn a notable voice – and competitive intrigue are leavening factors, with a female trio – think The Magic Flute's Three Ladies crossed with the Andrews Sisters – threading things together. What's remarkable is that Emma Jenkins's libretto is constructed from real-life histories, amounting to an almost drama-documentary feel. Detail is precise and that goes for the music, too, with set-pieces from 1950s eisteddfodau: Le Tyrol by Ambroise Thomas, complete with yodelling, and Martyrs of the Arena by Laurent de Rillé. There's a lull after the interval but momentum gathers again, with the actual transatlantic phone-message of support from Paul Robeson to the miners adding further authenticity, as does the shattering moment when Dafydd learns from the hated National Coal Board that his pit will close.
Director Caroline Clegg achieves a strongly theatrical dynamic using stage and auditorium, and Madeleine Boyd's design captures the feel of austerity. Conductor Stephen Higgins consistently stokes the fire of the terrific WNO forces, as well as those of the Dowlais Male choir whose voices add a further genuine note, testament to community spirit and the restorative power of their music-making.
[ad_2]

Source link