Advertisement / Publicité
This page is also available in / Cette page est également disponible en:


Francais (French)
QUEBEC
Montreal
The Choir of the Church of St. Andrew and St. Paul has announced their new conductor, Léa Moisan-Perrier. Moisan-Perrier will be the church's first female conductor, and will join interim Director of Music William Duffy in leading the 2022-23 season. Programming details to come. www.standrewstpaul.com
The Chorus of the Montreal Symphony Orchestra will join the MSO in numerous performances throughout their season. This includes Mahler's Resurrection Symphony (Sept. 15-17), Mendelssohn's A Midsummer Night's Dream (Sept. 21-22), and performances as part of Bourgie Hall's multi-year production of the complete cantatas of J.S. Bach (Sept. 24 and 25). www.osm.ca
Advertisement / Publicité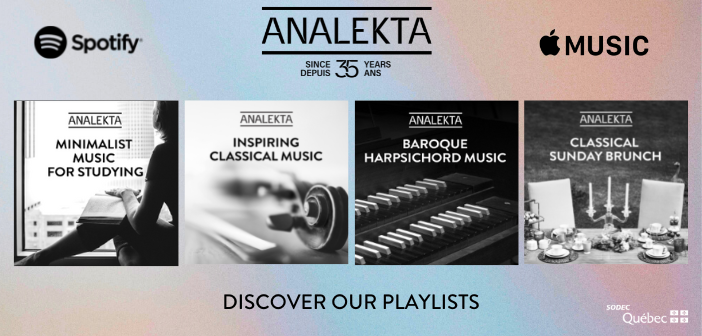 The St. Lawrence Choir, led by Philippe Bourque, will perform concerts titled "De clocher en clocher," (Nov. 26) and "Nouvelle agreable," (December) with repertoire to be announced; a concert dedicated to Giuseppe Verdi (May 13, 2023); and a performance of Zoltán Kodály's Psalmus Hungaricus, Imant Raminsh's Psalm 121, and Max Reger's Psalm 100, among other works, at the Maison Symphonique (March 11). www.choeur.qc.ca
The Studio de musique ancienne de Montréal (SMAM), directed by Andrew McAnerney, will offer six concerts as part of their season. www.smamontreal.ca
L'Orchestre Philharmonique et Choeur des Mélomanes, conducted by the young Francis Choinière, will present three concerts this season: Verdi's Requiem (Nov. 13), a concert version of Puccini's La Bohème on Jan. 20, and a concert of Debussy and Vaughan Williams (May 20, 2023)—all at La Maison Symphonique. www.opcmelomanes.ca
The Orchestre Métropolitain Choir starts off their season with a performance in collaboration with Elisapie Isaac (Sept. 25). The concert will also feature Ravel's Daphnis et Chloé. The OM Choir will then journey back in time to the baroque period, performing Bach's Mass in B minor (Dec. 18). Their season will conclude with a concert of Clara Schumann, Schubert, Bruckner and Brahms (April 22, 2023). www.orchestremetropolitain.com
Voces Boreales will present the first concert of their season, Souvenir (Nov. 5), followed by Candlelight Christmas (Dec. 20), which will serve as a launch for the Christmas CD recorded by Voces Boreales's professional octet last year. www.vocesboreales.org
Quebec City
The Choir of the Orchestre Sympho­nique de Québec has a busy fall ahead of it, with performances of Carl Orff's Carmina Burana in November (Nov. 2 and 3), followed by a concert titled "Noël en Choeur" in December (Dec. 15 and 16).
The esteemed Violons du Roy will be joined by La Chapelle de Québec for a program of Bach cantatas in Quebec City (Dec. 7) and Montreal (Dec. 9), conducted by Bernard Labadie. www.violonsduroy.com
Ontario
Ottawa
Although they have yet to make their season announcement, the Ottawa Choral Society has indicated they will welcome Gabrielle Gaudreault as their new artistic director, beginning in the fall. Gaudreault has previously been named one of CBC's 30 top classical musicians under 30, and has worked in Germany, the United States, and Canada. She will be the first woman to take on the role of artistic director with OCS. On the program this season for the OCS are works such as Benjamin Britten's Saint Nicolas Cantata (Dec. 18), a concert of works on the themes of war and peace by female composers (March 19, 2023), and Martin Palmeri's Misa Tango (June 11, 2023). www.ottawachoralsociety.com
Director Matthew Larkin's Caelis Academy Ensemble, operating out of Christ Church Cathedral, will perform Bach's Mass in B minor in celebration of their fifth anniversary (Sept. 25). www.facebook.com/caelisacademyensemble
The Capital Chamber Choir, conducted by Jamie Loback, will present Joby Talbot's Path of Miracles this September in both Wakefield, Que. (Sept. 9) and in Ottawa (Sept. 11) followed by a concert titled A Letter of Rights (Nov. 6) which will feature Tarik O'Regan's piece by the same name, as well as works by Canadian composers Emily Green and Mishaal Surti. In December, the choir will join the Cantata Singers of Ottawa and the NAC Orchestra, under the baton of Patrick Dupré Quigley, to perform Handel's Messiah (Dec. 14 and 15). www.capitalchamberchoir.ca
Toronto
It is no surprise that Toronto, host city of the 2022 edition of PODIUM, Canada's Choral Conference, is home to a vibrant choral community. Jean-Sébastien Vallée's second year as artistic director of the Juno-winning and Grammy-nominated Toronto Mendelssohn Choir will feature performances of Elijah (Nov. 2), Path of Miracles (Oct. 1), Bach's Mass in B minor (March 28, 2023), and the Little Match Girl Passion (March 18), in addition to programs of smaller works. www.tmchoir.org
The Amadeus Choir, directed by Kathleen Allan, will produce four concerts, featuring such works as Carmina Burana (Oct. 29), the Rachmaninoff Vespers (April 2 2023), and the première of a new work by Métis composer Ian Cusson (May 27). www.amadeuschoir.com
The Orpheus Choir of Toronto has announced its season, titled "Journeys," featuring works by Jake Runestad, Ēriks Ešenvalds, Beethoven's Missa Solemnis (March 5, 2023), and the première of Allan Bevan's multimedia cantata, Perfectly Mad (May 7). www.orpheuschoirtoronto.com
The VOCA Chorus of Toronto will present a variety of seasonal pieces at their first concert of the season, including Sarah Quartel's A Winter Day (Dec. 17), and will conclude the season with two concerts featuring a newly commissioned work by Andrew Balfour, at the famous Roy Thomson Hall (April 28 and 29, 2023). www.vocachorus.ca
The Exultate Chamber Singers will present "Heart and Soul: Music Heals," a concert that celebrates the healing powers of music and song (Oct. 28). They will sing about the uniqueness of Canadian winters in their second concert of the season, "A Winter's Night" (Dec. 16), followed by "Water Forms" (March 24, 2023), which explores our connection with water and features works by Canadian composers. Their season ends with "To the Future," which will spotlight the work of emerging composers (May 12).  www.exultate.net   
This page is also available in / Cette page est également disponible en:


Francais (French)