Advertisement / Publicité
This page is also available in / Cette page est également disponible en:


Francais (French)
Montréal
LMMC: Blackshaw & Los Angeles Piano Trio
On Sept. 11, British pianist Christian Blackshaw will delight Montreal with his third performance with the Ladies' Morning Musical Club. He has performed at London's Wigmore Hall, where he was an Artist in Residence for the 2018-19 season, and his recordings have been held to high critical acclaim by the likes of The New York Times and Gramophone Magazine. On the program will be Haydn's Variations in F minor, Tchaikovsky's The Seasons, and Schumann's Fantasie in C major.
Advertisement / Publicité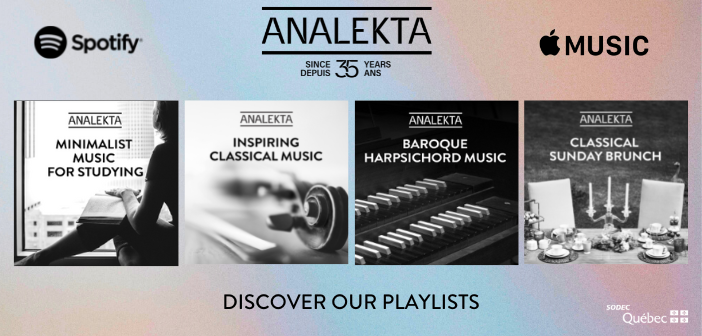 Just a month later, the Ladies' Morning Musical Club will welcome the Los Angeles Piano Trio for a performance on Oct. 2. Founded in 2020, the trio is composed of pianist Fabio Bidini, violinist Margaret Batjer, and cellist Andrew Shulman—all internationally acclaimed soloists, with extensive careers in chamber music. Not only does the ensemble deliver top tier interpretations of works by Haydn, Mozart, Beethoven, Brahms, Dvořák, and Shostakovich, to name a few, but they make it their mission to expose audiences to new and underplayed works that reflect the artistic diversity of the city of Los Angeles. Their Montreal concert will feature works by Mozart, Turina, Rachmaninoff and Brahms. www.lmmc.ca
Philippe Sly in Montreal
Having well established himself on the international opera stage, Montreal audiences are sure to welcome beloved baritone Philippe Sly home for his performance at Salle Bourgie on Oct. 5. Joined by soprano Jana Miller and pianist Jean Marchand, Sly will perform a program of works by Robert Schumann, including Frauenliebe und Leben, and Dichterliebe. www.mbam.qc.ca
András Schiff performs Goldberg Variations
Montreal is in for quite the treat as Sir András Schiff performs Bach's Goldberg Variations, first published in 1741. Presented by the Montreal Bach Festival, the concert will be an exciting opportunity for audiences to hear one of the most masterful pianists of our time. The Hungarian virtuoso has recently been named the 2022-23 Mary and James G. Wallach Artist-in-Residence with the New York Philharmonic, and has not only received a knighthood for services to music, but a doctorate from the Royal College of Music, as well as the Royal Philharmonic Society's Gold Medal. Sir Schriff has a prolific discography, but Montreal audiences are sure to enjoy hearing his artistry live. Maison Symphonique, Oct. 5. www.festivalbachmontreal.com
TSO: A Centenary for the Whole Family

The TSO will begin their 100th season by inviting the whole family out to celebrate in this free, open-house style concert. On Sept. 24, they will offer a day of free performances and activities starting at 10 a.m., featuring TSO musicians, the TSYO, Iranian-Canadian Composers of Toronto, and the Medusa Ensemble, performing works by the likes of Indigenous composer Andrew Balfour, Chopin, Rimsky-Korsakov, and Arturo Márquez, as well as local artists Afarin Mansouri and Luis Ramirez. To complement the day's musical offerings, Roy Thomson Hall will be open for guided architectural tours. www.tso.ca
Celebrating Homegrown Talent
This year's Canadian Songwriters Hall of Fame Gala will take place at Massey Hall on Sept. 24, and will celebrate the induction of Bryan Adams, Jim Vallance, Alanis Morissette, David Foster and Daniel Lavoie. The event will feature tribute performances by such popular artists as Corey Hart, Pierre Lapointe, Neil Donell, Bruno Pelletier and Bobby Bazini. Since its foundation in 1998 by music publisher Frank Davies, the Hall of Fame has inducted 68 songwriters and 181 songs, but this year's ceremony will be only the eighth in the non-profit organization's history. www.mhrth.com
The Toronto Mendelssohn Singers
The Toronto Mendelssohn Choir is one of Canada's oldest, largest and best known choral organizations, originally founded in 1894. This year, however, they are undertaking a new adventure. The newly minted Toronto Mendelssohn Singers is the organization's professional chamber ensemble and they will perform a number of concerts separate from the larger group, starting with their Oct. 1 concert, "The Pilgrim's Way." Featuring a commission by composer in residence Shireen Abu-Khader, Edward Elgar's Lux Aeterna, and Joby Talbot's a cappella masterwork Path of Miracles, the concert will explore themes of displacement, identity and the individual journey. www.tmchoir.org
Jazz at Lincoln Center Orchestra with Wynton Marsalis
On Oct. 6, Massey Hall will welcome the world-renowned Jazz at Lincoln Center Orchestra, consisting of 15 of today's highest calibre jazz musicians, led by music director Wynton Marsalis. A New Orleans native, trumpeter, composer, bandleader and educator, Marsalis is the co-founder of Jazz at Lincoln Center, which came into existence in 1987. The group will bring a performance of works by Duke Ellington, Count Basie, Thelonius Monk, Charles Mingus, Dizzy Gillespie, and many others, to Canadian audiences in what is sure to be a special evening of music. www.mhrth.com
This page is also available in / Cette page est également disponible en:


Francais (French)
Source link