Advertisement / Publicité
Welcome to the November 2022 national issue of La Scena ¬Musicale, our annual special on Higher Education that is the second of five national issues in our six-issue 27th season (2022-23) of publishing.
The 27th season continues the all-colour, all-glossy format the ¬magazine adopted in November 2017. With our separate English and French editions, we reinforce our position as the largest bilingual arts media in Canada. We may also publish special issues during the year for our paying subscribers. And we will continue our personalized -serenades and our online virtual concerts for Valentine's Day and Mother's Day.
CURRENT ISSUE
This November/December/January national issue comes to you thanks to advertising support for our annual Higher Arts Education special and guide, including news and articles on Vanier College, HEC and audio recording education. We meet with two of Canada's top retired arts administrators, Isolde Lagacé and Ann Summers Dossena, who reflect on their careers.
Advertisement / Publicité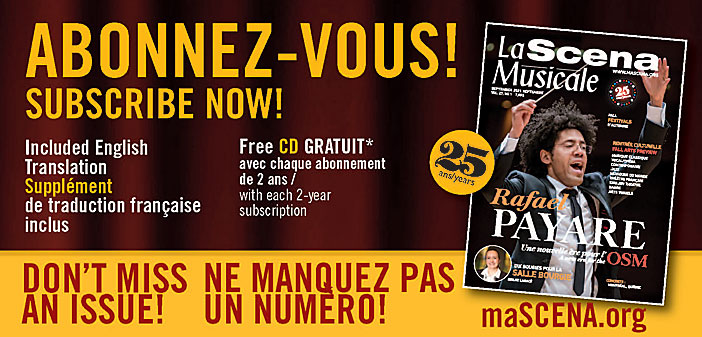 The theme of this issue is classical crossover. On our English cover is intrepid conductor Francis Choinière whose partnership with twin Nicholas in film music has allowed them to expand their concert ¬production from Montreal to Toronto, winning audiences along the way. Our French cover showcases Italian-Canadian soprano Giorgia Fumanti whose voice has carried her to an international career in crossover. Canadian singer Jeanick Fournier won Season 2 of Canada's Got Talent and a recording contract with her powerhouse voice. ¬Maritime soprano Christina Haldane just released an endearing album of Acadian songs.
Our national calendar reflects the increasing offerings (see p. 56). And what's a holiday season without performances of Handel's ¬Messiah? See page 33 for our roundup in Eastern Canada.
As always, we offer reviews of interesting recordings in both ¬classical and jazz. Paul Robinson reviews the recently-released film Tár, starring Cate Blanchett.
This issue also includes an interview with Olga Razenhoufer whose Molinari Quartet just celebrated its 25th anniversary, a tribute to Joyce DiDonato, and continues our appreciation of Esprit Orchestra who will present a concert featuring four violin concertos.
With the coming holiday season, please see our two pages of Gift Ideas (pp. 50-51) from our team. Another great gift idea is our 10-pack Musical Greeting Cards ($20 value, see ad on p. 70).
COVID UPDATE
Since the summer, COVID restrictions have almost all been lifted and we have pretty much returned to normalcy, but COVID infections are starting to rise again. We, at La Scena Musicale, recommend you be prudent by continuing to wear masks when out in public spaces and that you take the next booster vaccine.
25TH ANNIVERSARY CELEBRATION
In the coming year, we hope to finally celebrate the 25th anniversary of La Scena Musicale, albeit a year late due to COVID uncertainties.
I'm glad to announce that we are partnering with the new opera company operaLAB to present a performance of Puccini's Tosca ¬starring soprano Chantal Dionne along with Montreal-based ¬professional singers and a 10-piece chamber ensemble conducted by Louise-Andrée Baril. As we go to press, we are planning the Gala for April 23, 2023, at the Centre Pierre-Péladeau.
OperaLAB, dedicated to giving performance opportunities to singers 35+, is the brainchild of Baril, who has appeared in some of our virtual concerts in duo with Dionne.
Would you like to celebrate our anniversary by joining our fundraising Gala committee? Let us know, and also share with us your favourite memories of La Scena Musicale. If you are interested in helping, please contact us at [email protected]
SUBSCRIPTION AND DONATION DRIVE
With changing consumer habits in media consumption, La Scena has evolved while also maintaining its core mission to promote music and the arts. Our print magazine will continue to provide quality curated articles and interviews in both English and French, while our website will focus on news and events.
In 2022, we aimed for more content and introduced a new column, Highlights, on our website to curate interesting feature articles and ¬interviews. We also plan to publish more national issues, but the ¬frequent increases in the price of magazine paper is a cause for ¬concern. We hope you will consider supporting our magazine through a donation and/or join our fundraising committee by contacting us at [email protected]
Another way to support the magazine is through the LSM Boutique at mySCENA.org, which includes tickets to the Opéra de Montréal and other partners. We recently received a donation of a three-year-old Yamaha Baby Grand GC1 which we are selling (see ad in the classified section on p. 64).
La Scena is also hiring: through Emploi-Québec we can hire a full-time administrative assistant (calendar and subscriptions) and a full-time writer. Please send your resumé and cover letter to [email protected] Because of the pandemic, we changed from street distribution to home delivery. To make sure you continue to -receive the magazine at home, please become a subscriber or give a subscription to someone special. It makes an ideal gift for parents or an artist.
As always, La Scena Musicale maintains a vigorous presence on Facebook, Twitter and Instagram. The website offers new resources almost daily. Pandemic or no pandemic, the arts will thrive. As will La Scena Musicale.
We wish you a happy holiday season and a musical, artistic new year!
Contents

6 Editorial

8 Industry News

10 Isolde Lagacé

12 Ann Summers

14 Esprit Orchestra

16 Joyce DiDonato

18 Les Violons du Roy

18 La Nef

22 Francis Choinière

26 Giorgia Fumanti

28 Jeanick Fournier

30 Crossover: A Historical Overlook

32 Christina Haldane

33 Messiahs

34 Higher Education Guide

38 Higher Education News

42 Vanier College

43 Alexander Koutelias

44 Audio Education

46 Jazz: Bass Is The Place

48 New Releases

50 Gift Ideas

52 CD Reviews

56 National Calendar

 

PDF Download



 
Source link