This page is also available in / Cette page est également disponible en:


Francais (French)
In 1982, composer and conductor Alex Pauk identified a gap in the Canadian music scene. Although he had already founded smaller musical organizations (ARRAY Music, and Days Months and Years to Come) in the hopes of creating environments in which composers—often his friends—could hear their music played by high-calibre musicians, the lack of such opportunities in larger, orchestral contexts, led to the conception of Esprit. His goal with the orchestra was to champion new works by Canadian composers, and to provide orchestral musicians the opportunity to immerse themselves in the process of preparing new music, by always guaranteeing sufficient (and supportive) rehearsal time.
Esprit's first concert included premières of John Rea's Vanishing Points, Serge Garant's Plages, and Brian Cherney's Into the Distant Stillness—all of which were commissioned specifically for the occasion. Although commissioning and performing new Canadian works has remained Esprit's core mission, the orchestra has expanded its repertoire to include works from all over the world, in tandem with Canadian compositions, placing Canadian works in dialogue with pieces by international composers.
Advertisement / Publicité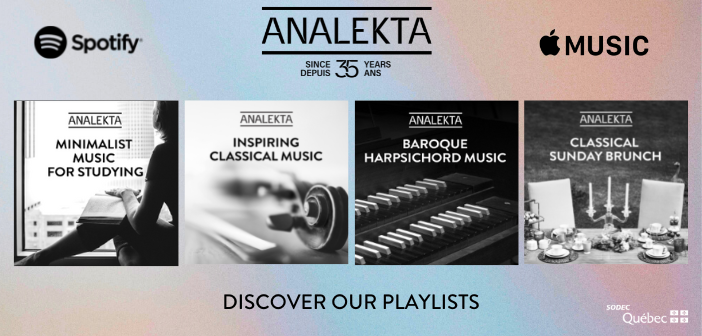 Many doubted the feasibility of a project of this scale, and questioned whether the orchestra would last longer than a couple of years, but Pauk, and his co-founder and wife, composer Alexina Louie, pressed on. Esprit was one of the first orchestras to present orchestral works of John Adams; they were integral in bringing Colin McPhee's compositions to a broader audience; and they began presenting works by Unsuk Chin as early as 2009, when few others had done so.
Pauk consistently designs compelling, unique seasons, often breaking the traditional rules of orchestral programming. It is important to him, for instance, to "play works more than once," and to present "works by the same composer twice in a season." Esprit creates opportunities for composers to write for orchestra and promises that their works will be prepared deliberately, by a group of musicians that is "committed to the sound," as Pauk puts it. The approach combines ample rehearsal time, an orchestra that is passionate about playing new music, attention to detail, and an open dialogue between composer, conductor, and players. The result? An exciting, nurturing process, generative of musical creativity and vast artistic potential.
Nurturing is a big part of what Esprit does, and what makes the orchestra so special. As an organization, it has immersed itself in numerous musical and educational communities in the hope of not only supporting currently active composers, but shepherding the next generation of Canadian composers. Esprit runs a number of programs—its Three Year Creative Strategy, for example, champions the works of two new Canadian composers per year, each for a three-year period, during which they are commissioned to write for the orchestra on a regular basis. These compositions are then performed as part of another outreach initiative, the annual New Wave Festival, at which composers are able to hear—and sometimes even conduct—their own works. Such was the case for rising star, Alison Yun-Fei Jiang, whose works Temporal and Sanctuary, were both premièred by Esprit. Jiang has now moved on to the position of Associate Composer with the Toronto Symphony Orchestra.
In the interest of introducing young people to contemporary classical music early on, and thus "nurturing young compositional voices," as Pauk puts it, Esprit also runs a program called Creative Sparks. Composers affiliated with the orchestra are invited into high school music classes to work with students, discussing contemporary music, and collaboratively composing works of their own.
Ukrainian-born Canadian composer and musician Eugene Astapov was one such student, introduced to Esprit's Creative Sparks program in his high school classroom. Years later, with degrees from The Juilliard School and the Eastman School of Music under his belt, and numerous performances in famous halls around the world, he has returned to Esprit as its RBC Associate Composer/Conductor. His works Hear My Voice, Emblem, Ephemeral Songs, and A Still Life were all commissioned by Esprit. Astapov now works with Creative Sparks as a mentor, paying forward the support he received from Esprit at a formative stage of his career.
Esprit brings this emphasis on musical education and informed listening right into the concert hall, where they regularly offer "pre-concert chats" prior to performances, hosted by Alexina Louie. As she explains, Louie attends rehearsals leading up to the première of a new piece, "listens, and creates a road map for the audience," providing guidance as they navigate often completely new, challenging musical languages, thus making them "less fearful." She highlights notable elements, points to structural pillars, and then introduces the audience to the composer. This allows audiences to connect to "personal elements" of the works, she says, "(getting) inside the piece beyond the program notes."
Education happens in the rehearsal process, as well, Pauk and Louie explained. Contemporary musical language is often difficult to decipher. Pauk aims to share his knowledge of this musical sensibility with his orchestra members, empowering them to commit to the works they prepare. The group works through pieces slowly and methodically to play the music "faithfully to the composer." This generates a sort of feedback loop. As Pauk notes, when composers are writing for Esprit, they know they can immerse "themselves in their sound worlds without hesitation or distraction."
Esprit creates what Pauk describes as "a realm of pure music," that exists beyond the influence of commercialism or other external factors, and looks instead to the scores, and to the people who bring them to life, to propel the organization forward.
The orchestra has certainly had its fair share of remarkable moments with remarkable people. In 2016, Esprit performed R. Murray Schafer's Adieu Robert Schumann as part of a program titled "Power On." It was one of the last times Schafer, who suffered from Alzheimer's and died in 2021, was able to attend and comprehend a performance of his works. Schafer, a friend of both Pauk and Louie, wept as Krisztina Szabó interpreted the role of Clara Schumann, reflecting on the deterioration of her husband. There was an obvious parallel between the state of Schumann's health as described in the piece, through Clara's writings, and that of Schafer, sitting in the audience. This was poignantly echoed by the way Schafer's piece intertwines Schumann's music with his own. Pauk recalls that as the piece finished, Schafer was helped on stage, and the "audience enveloped him." The orchestra had "performed for him," there was no doubt about it.
This season, Esprit celebrates 40 years, and spares no expense in doing so. The orchestra will appear three times this fall, with up to 70 players taking the stage.
On Oct. 27, SPIRA will fill Koerner Hall with the sounds of the Canadian première of Unsuk Chin's concerto for orchestra, Spira, as well Les tringles des sistres tintaient, by Christopher Goddard, and the famous Asyla, by Thomas Adès, which was given its Canadian première by Esprit in 2004.
Esprit's second concert of the season, VIOLINISSIMO, on Nov. 27, pushes the envelope by featuring four violin concertos, performed by three different concert masters. On the program are works by Esprit favourites José Evangelista and John Rea, as well as the world première of Six Enigmas by Andew Staniland. The program will culminate in a performance of Alexina Louie's Triple Concerto for Three Violins and Orchestra.
TAIKO LIVE! has been announced as Esprit's third concert of the season, produced as part of the Royal Conservatory of Music's 21C Music Festival. The concert will feature Toronto taiko drumming group Nagata Shachu, performing Maki Ishii's Mono-Prism. The concert will also include the world première of James O'Callaghan's Overbound, featuring cellist Cameron Crozman, for whom the work was composed, as well as a Colin McPhee crowd favourite, Tabuh-Tabuhan, for two pianos and orchestra.
This is but the first half of Esprit's season

This year, Canada's only full-size orchestra devoted to the performance of new music celebrates its 40th anniversary. It has evolved from living-room board meetings and the desire to create an environment in which composers and musicians could immerse themselves in the details of new classical works, to an organization that maintains the same mission at its core, but is far greater than the sum of its parts. Alex Pauk and Alexina Louie consider this anniversary to be the perfect moment, not for reinvention, but for a renewed commitment to the mission they've devoted the organization to all of these years: to give way to the music, commit to the details, honour the composers, uplift new works by Canadian composers, and champion contemporary music across generations and around the world.
www.espritorchestra.com
This page is also available in / Cette page est également disponible en:


Francais (French)
Source link