Piano Music She Wrote is a project which helps us explore the world of piano music composed by women. Pianists Erica Sipes and Sandra Mogensen have sorted through IMSLP to compile their PMSW Directory – a spreadsheet which gives access to thousands of piano pieces. In addition, they are building a resource of videos of this repertoire on YouTube. MUSEDU spoke with the two pianists about their project.
Erica and Sandra, tell us a bit about yourselves and the idea behind Piano Music She Wrote.
Erica: I am a freelance pianist based in the United States. I may have heard Clara Schumann's name, but until about two years ago, it never dawned on me that a woman could have composed. When a flutist asked me to do a recital together and perform music written by women, I loved it. It was such a fascinating thing for me. We started a trio with a clarinetist, hoping to shine light on women composers in the past, and we also commission women to write pieces for us. Sandra and I have been Twitter friends for a decade, and when I saw that she is doing a CD project on women composers, I invited her to perform her programme over here.
Sandra: I was born and raised in Canada, both my parents are European, so I have lived on both sides of the Atlantic. I do all things that professional pianists do, and in the last two years somehow it dawned on me: women composers? So I did some research, and found this incredible repertoire! I started with mostly 19th century composers and got the music quickly and cheaply from the online resource IMSLP. I realised that I needed to devote a lot of focus to that, and then it became an album, which is one of six albums that I will eventually do.
When the pandemic hit, I thought: "How do I continue my mission now, staying in my house?" So Erica and I decided to build a catalogue, a spreadsheet with all women composers of piano music on IMSLP, and performing them in videos. So far, we have collected about 400 composers in our spreadsheet, that's a minimum of 3000 pieces of music. We talk about gender balance in programming, but I am looking at gender balance over my lifetime. For decades, I have performed only music written by men, so from here on, to balance that, it will have to be almost 100% female composers.
So even as professional pianists, you have rarely come across female composers!
Sandra: And now that we have come across them, we realise how difficult it is to find the scores. Thank God for IMSLP, but we had to go through all the names and there was maybe one female name on the whole page. It took us months.
Erica: We started out by checking every page manually, and even if you filter by female composers, you will find music for all instruments. I don't think there is a way to limit your search to the piano, so you have to click on each entry to look and see. We have this fantastic resource, but it is challenging to find this music easily and to know if the piece is any good or what level it is. We wanted to break down any barrier we could find to make it accessible to anyone.
What else did you realise when searching for female composers?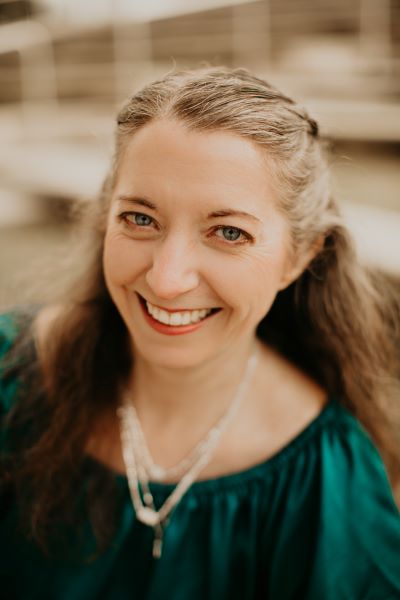 Erica: Women composers did not have the same opportunities as men did to publish their works. I know there are many women on IMSLP who wrote a lot of music, but they may have only published one or two pieces. Or maybe all we have is a manuscript. So we cannot judge these composers by their output. Another interesting thing for me was that this is a historical snapshot of what was accepted in society at the time. For a woman, it was acceptable to be a singer or a pianist. There were just a few that played the flute, the violin, the guitar or the harp.
Sandra: We also don't know that we still have all the scores. Sometimes you see a woman's Opus 74 and you wonder: "Where are all the other works?" They have been lost.
Some of these composers may have published under a male name. Those were different times and there are some things we will never find out …
Sandra: Tragically! Also, we found lovely little pieces of various levels and all we have is the name of the composer. We don't know when they lived, which country they came from, or if they wrote more than this. But there are gems among those pieces.
How do you find out more about the composers' backgrounds?
Erica: In the spreadsheet we give very basic information, just the biographical data and the country, if we have that. In the description of the YouTube videos, we try to include main points on the composers' lives that we find interesting. The resources at the bottom of Wikipedia entries are usually helpful. There is also MTEW – Music Theory Examples By Women, a fantastic website where music theorists have put together musical samples, biographies of composers and measure numbers that give music theory concepts. Music teachers can use this material. The more that happens, the more it gets into the mindset of the younger generation.
Sandra: There is also the Sophie Drinker Institut which provides very in-depth information. For composers who have had more of a presence, you can always find a foundation or someone who has specialised on them with a PhD.
Do you cooperate with the archive Frau und Musik and others who do similar kinds of research?
Sandra: We have a network to support each other. I was at the archive Frau und Musik in Frankfurt about two years ago. They were so helpful and knowledgeable – great staff. And there is HenselPushers, a website aimed at publishing all Fanny Mendelssohn Hensel pieces. They have also done a YouTube video for us. The network is growing, it is wonderful to share and support.
Erica: We were just asked to be ambassadors of Donne – Women in Music in the UK, they have a great website with lots of videos, and they also do webinars. This is also a great support network of people that share the same interest as we do – including men. There are at least two male pianists who are ambassadors as well. Let's get them being cheerleaders for all of this, too.
Are female composers included in the piano syllabus of music exams like ABRSM (UK) or RCM (Canada)?
Sandra: I can speak to the Canadian system because I have been an examiner and have taught in that system. Recently, I wanted to find repertoire for a student in Grade 10 and went through the lists. There were no Baroque or Classical pieces. For the Romantic period, the list gave one piece by Clara Schumann, and for the 20th century there was one piece by Amy Beach and a few contemporary Canadian composers. The the percentage is still over 90% male composers. I think the UK has made some more progress, but we still have a long way to go.
In your resources, you classify the pieces according to levels and countries to make them easily accessible. Who is the main target group – piano teachers or students, professional pianists or amateurs?
Sandra: All of these. And piano music lovers who just want to listen. So basically anybody! When it becomes normal for children to play as many female composers as male and they won't think about it anymore, we will be closer to where we want to be. On our YouTube channel, we also share videos of pianos students performing the pieces. We would love to invite amateur pianists and teachers from Austria to contribute a video as well!
Further information on the project can be found on the Piano Music She Wrote website. When buying the PMSW Directory, you will get lifetime access to the spreadsheet, including regular updates. You can subscribe to the YouTube channel here. If you would like to submit a recording, contact Erica and Sandra directly at [email protected].