[ad_1]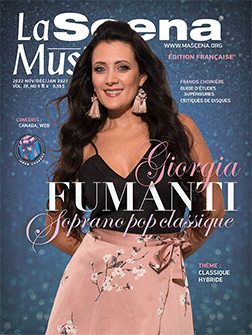 Advertisement / Publicité
This page is also available in / Cette page est également disponible en:


Francais (French)
Francis Choinière has an appetite for great musical projects. When we interviewed Choinière in early October, he was in Toronto assisting Maestro Jacques Lacombe for a number of weeks, conducting rehearsals for Georges Bizet's Carmen, the second production of the Canadian Opera Company (COC) season. "I already had familiarity with Carmen," he said. "When I was a child, I sang excerpts from Carmen in school. When I became a conductor many years later, I had the opportunity to conduct choirs and get more familiar with Carmen. This is the first time I have worked on such an ambitious production in its entirety."
At only 25, Choinière will have another ¬opportunity to conduct an opera in January: a concert performance of Puccini's La Bohème at Montreal's Maison symphonique. He'll be conducting the Orchestre phiharmonique et Chœur des mélomanes (OPCM), one of his many ensembles. In the meantime, he'll be busy with other vocal music projects.
Advertisement / Publicité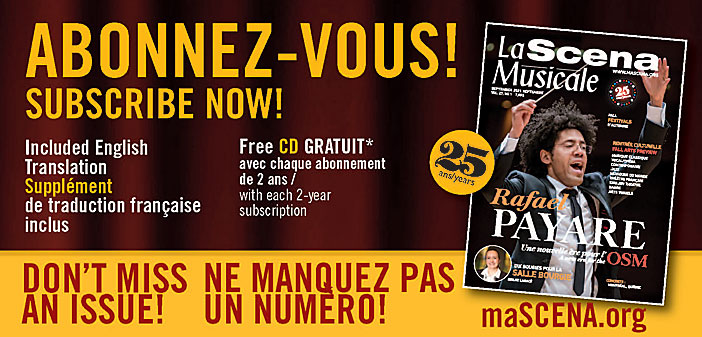 TRADITIONAL AND CHURCH OPERAS
As a complete art form, opera had larger-than-life proportions to make itself appealing. Choinière is an amateur baritone as well as a conductor. Singing has always been a part of his musical life and still holds a place in his musical projects. He'll take on the Verdi ¬Requiem in November, a monumental work in the repertoire many believe was another grand opera. "I have never sung the Requiem, though this was a work I always wanted to conduct. All of us are familiar with 'Dies irae.' Aside from the drama and excitement coming from the orchestra, I will attempt to highlight the dialogue among the four soloists and ¬chorus, as soloists play a more crucial role in the Verdi Requiem than in many other sacred works and requiems such as those by Fauré and Duruflé, even Brahms."
ENTHUSIASTIC ABOUT CHOIRS
Like many of his colleagues, Choinière gained his first conducting experiences as a choral conductor. "I became familiar with choral repertoire when I sang in a choir during my first year of primary school," he said, adding that he was six or seven years old at the time. "I was always delighted by great choral works and wanted to conduct these works with orchestra. They were my first inspiration." When he was about nine, he started to compose while playing the piano, his first instrument. Though it's impossible to dedicate as much time to the piano as he would like, Choinière continues to hone his piano talent, since it's still a part of his everyday life. "I consider the composer's point of view whenever I perform a work, as I'm provided with another level of analysis. For instance, I ask myself which colours or harmonies I could bring out to ¬ensure the music sounds the way it should. Anything accurately written in a score tells me what the composer's intention was. This is the reason I always take time to read scores."
Unfortunately, there isn't much room for composition when administrative duties and concert planning are added to the daily mix. "If I had time to compose, I'd compose my own works," Choinière said. "I'm currently working on arrangements with composer Joey Reda in preparation for our Christmas concert. We have produced original arrangements of traditional holiday carols for Lyrico (a Canadian operatic pop trio) with orchestra and chorus. Each carol has a new complementary theme attached to the tunes we're ¬familiar with, thereby providing a new ¬perspective to classic Christmas carols such as Silent Night and Quel est l'enfant."
Choinière confesses that he gets his inspiration far into the night. Because he is ¬constantly bathed in music by the greatest composers, it provides him with creativity. With respect to orchestration, he equally likes music by Ravel, Debussy, and John Williams. It isn't surprising that he has been exposed to so much film music since his childhood.
MEMORABLE MOMENTS
"I grew up in a musical family,' he said. "Every musical genre was playing in our household. My dad played the guitar; my mother, the harp. He was listening to many soundtracks; my mother, many operas. I have a twin brother and a sister two years older than me. All three of us studied music; all three of us play piano and sing." Of Choinière's many memorable moments, he remembered watching Yannick Nézet-Séguin on videocassette conduct ¬Carmen in his early days at the Metropolitan Opera during the 2009–2010 season. Choinière was 13. In his early adulthood, he once again crossed paths with Nézet-Séguin and the Orchestre Métropolitain, singing among the chorus in a concert performance of Wagner's Parsifal at the 2017 Festival de Lanaudière. This long-lasting memory is a ¬testament to Choinière's interest in epic scores worthy of the greatest film music. "I have now heard and sung Parsifal. I would like to ¬conduct it at least once during my lifetime."
THE GREATEST MUSIC
AT THE MOVIES
Choinière has always been impressed with scores written by John Williams and Ennio Morricone. He believes that Williams and Morricone have taken classical music to new orchestration heights. "Classical music is still prevalent today because it brings all generations together. I've witnessed this and lived through this reality with my dad," he said.
Howard Shore can also be added to the list of composers who influenced Choinière's life, especially music to The Lord of the Rings. After all, Choinière belongs to the generation of this trilogy shown on movie screens in the early 2000s and based on novels by J.R.R. Tolkien.
Choinière gave free rein to his passion and founded Orchestre FILMharmonique, an ¬orchestra mainly dedicated to film music ¬performance. In February, FILMharmonique will hit the road again for the third part of its Music at the Movies concert series featuring a new selection of masterpieces. Performances will be held in Montreal, Quebec City, Toronto, and Sherbrooke.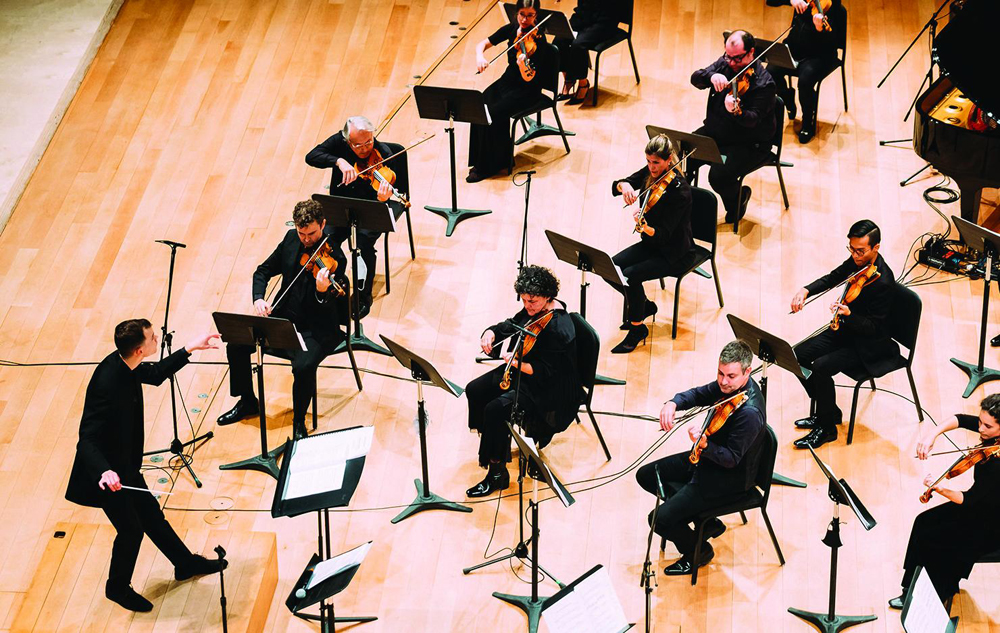 In Montreal in 2015, film music for Gladiator was presented by the orchestra that would officially become FILMharmonique. Other film music-based concerts followed and were based on soundtracks from Amadeus and Harry Potter, both produced by Toronto-based company Attila Glatz at the time. ¬Following a successful run of these initial ¬concerts dedicated to film music, the idea for producing similar concerts emerged with The Lord of the Rings in 2019. The success was undeniable. Led by siblings Francis and Nicholas Choinière, GFN Productions built on its success and licensed products that enabled the performance of music from Star Wars, ¬Titanic, and Fantasia. "Audiences were aware of the novel approach to these productions. The Lord of the Rings is still one of the most popular performances to this day, bringing ¬together people who are film, video game, and even music fans," said Marketing Director Nicholas Choinière.
ENSEMBLE CLASSICO-MODERNE
Ensemble Classico-Moderne is a smaller-scale ensemble that grew out of the Orchestre FILMharmonique only two years ago. Francis Choinière said that the ensemble embarked on a first successful tour last year, featuring ¬Vivaldi's Four Seasons and works by Piazzolla. Building on these sold-out concerts in Montreal and Quebec City, Choinière decided to present the concerts again with the youthful violin prodigy Isabella d'Éloize Perron. "I now have enough familiarity with both pieces; perhaps I might conduct them from memory by the end of this tour," he said. He's confident about the future, opening a window of opportunity for working on smaller-scale repertoire. But he said that this is not a new chapter in the life of the ensemble. "The ensemble is not interested in long-term projects. It will remain connected with the Orchestre FILMharmonique programming. The idea is to play works that aren't necessarily chamber in style but to make music with a smaller ensemble, making it possible to combine classical repertoire with modern repertoire, featuring Vivaldi and Piazzolla."

Alongside Ensemble Classico-Moderne, Choinière will be playing more baroque music than he is used to until now. In November, he'll make his first appearance at the Bach Festival, conducting Bach's well-known ¬Orchestral Suite No. 3 in D Major, Palladio by Karl Jenkins, and Adagio in G Minor by ¬Albinoni. "My approach to conducting and performance definitely varies from one repertoire to the next," he said. "Though the ¬foundation remains the same, the preparation behind the works is different."
TRANSLATION BY DWAIN RICHARDSON
Choinière will tour Vivaldi's Four Seasons with ¬Ensemble Classico-Moderne on Nov. 2, 4, 5, 12, 26, and 27 with violinist Isabella d'Éloize Perron.

He will conduct the Verdi Requiem with the OPCM on Nov. 13.

He will make his first appearance at the Bach Festival on Nov. 19, conducting Bach Undercover, a concert for children.

Choinière will join Lyrico in a concert featuring ¬Christmas carols and other repertoire on Dec. 4 and 11.

A one-time concert performance of Puccini's La Bohème will take place at Maison symphonique on Jan. 20.

www.filmharmonique.ca

www.opcmelomanes.ca
This page is also available in / Cette page est également disponible en:


Francais (French)
[ad_2]

Source link