Advertisement / Publicité
This page is also available in / Cette page est également disponible en:


Francais (French)
Laval, November 14, 2022 – The wife and children of Gilbert Patenaude regret to announce his death on November 13, 2022 at the Cité de la santé de Laval.
Born in Montreal in the Rosemont district, he grew up in Outremont where he learned music as a soprano with the Clerics of Saint-Viateur, then piano and organ at the Vincent-d'Indy School. He then pursued most of his musical training at the Conservatoire de musique du Québec in Montreal. On the recommendation of Raymond Daveluy, he became the first lay musical director of the Petits Chanteurs du Mont-Royal, a position that he held for 38 years, and which was at once pedagogical, musical and liturgical.
Advertisement / Publicité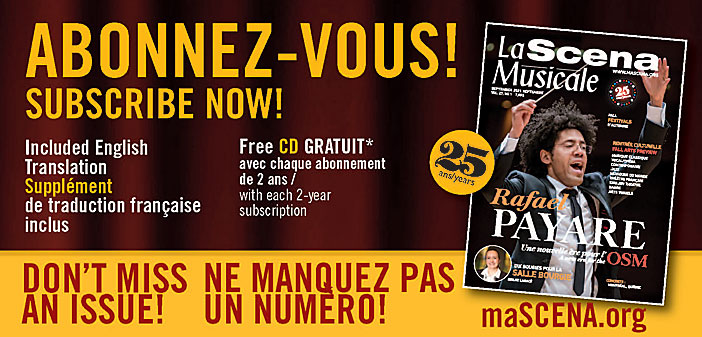 Gilbert Patenaude also taught at the Cégep de Saint-Laurent and at the Vincent-d'Indy school, contributing to the training of thousands of young musicians. He directed the Chœur Vaudreuil-Soulanges, the Théâtre d'art lyrique de Laval and was the founding conductor of several ensembles including the Orchestre symphonique de Laval, Les Chantres musiciens, Les Voix d'Elles, Les Filles de l'Île and the Chœur Enharmonique.
He leaves an important body of work including operas, orchestral music, chamber music, several vocal works and thousands of harmonizations, arrangements and orchestrations.
He received the 2018 Tribute Award from the Conseil québécois de la musique and a Medal of the National Assembly in 2022.
Gilbert Patenaude was the subject of two articles in the print edition of La Scena Musicale. Below are the text as a tribute.
---
Gilbert Patenaude, Man of Music – Opus Tribute Award
by Dominic Trudel – published in La Scena Musicale on March 28, 2019
Last February, the Opus Tribute Award from the Conseil québécois de la musique (CQM) went to Gilbert Patenaude in recognition of a long career. He is known for his commitment to choral singing, particularly as the director, for 38 years, of Les Petits Chanteurs du Mont-Royal. It is with dedication and rigour that he has taken on a demanding pedagogical and musical load that includes, in addition to teaching, more than 80 annual performances, religious services and other events. His achievements with young singers include no fewer than 23 international tours and a dozen recordings. He has trained more than a thousand boys, addressing an immense repertoire ranging from Gregorian to contemporary music, from the great polyphonic works of the Renaissance to folksong.
The choir director has also achieved much with Les Troubadours de Terre des Hommes, the Vaudreuil-Soulanges Choir, Les Voix d'Elles, Les Filles de l'Île et Le Chœur Enharmonique. He still manages the men's choir Les Chantres musiciens, which he founded in 1992.
Despite having been initiated to music early by the clerics of Saint-Viateur, then at the Vincent-d'Indy School, Gilbert Patenaude was destined for a career in social work. Without completing his studies in social sciences, he found his first job as a music teacher in Matagani, north of Abitibi. When he returned to Montreal three years later, it was to study at the Conservatoire, including conducting, singing and musical analysis in the classes of Remus Tzincoca, Pierre Mollet and Gilles Tremblay.
Patenaude is also a composer whose range of works includes choral music, chamber music, opera, musical tales and songs for voice and piano in addition to hundreds of arrangements. In search of a balance between prosody and music, the composer tends to go beyond pure technical display. As evidenced by his operas Chevalier de Lorimier (1992), Marguerite Bourgeoys: Troyes Ville-Marie (1996) or his adaptation of the Little Prince of Saint-Exupery (2002), his main source of inspiration is humanity in history. Poetry-loving, he sets Émile Nelligan, Alfred Desrochers, Gérald Godin, Roland Giguère, Gaston Miron, Gatien Lapointe and many others to music. His music also illustrates many texts by his companion Thérèse Tousignant.
Committed to his community, he was also the founding conductor of the Laval Symphony Orchestra (1984-1986) and artistic director of the Théâtre d'Art Lyrique de Laval (1986-1994).
Pedagogue, choral and orchestra conductor, artistic director, composer, arranger, Patenaude is a musician indeed, totally invested in his art. He has transmitted to more than one generation the taste and appreciation of music.
---
Gilbert Patenaude: The Maestro Retires
by Julie Vovan – published in La Scena Musicaleon
After 38 years as artistic director of the Petits Chanteurs du Mont-Royal, Maestro Gilbert Patenaude is ready to retire. What kind of musical and pedagogical legacy is he leaving?
In 1978, Patenaude became the first lay musical director of the Petits Chanteurs. In the 60 years since its founding, the choir's primary mission has been to offer musical accompaniment for the religious services at Saint Joseph's Oratory. Patenaude's arrival was a change of pace for the young singers. He took on the artistic direction and musical training, and still had time to compose his own pieces, including three operas.
Just a few months after he was hired, Maestro Patenaude and the Petits Chanteurs performed a Christmas concert with none other than Luciano Pavarotti. The choir conductor had to direct the imposing soloist as well as the choir, all the while dealing with the legacies of his predecessors, still fresh in the singers' memories. But if the concert with Pavarotti was an important moment in the history of the Petits Chanteurs, the important moment for Gilles Patenaude himself was a Petits Chanteurs concert in Wales. The program included Max Reger's Mein Odem ist schwach, a work for four mixed voices. An audience member admitted to Patenaude that even the local universities couldn't perform the score, as it was so difficult. "I could die tomorrow, knowing I've heard the most beautiful music," said the admiring audience member.
Patenaude summarizes his philosophy thus: one should be engaged in everything one does, and always in the service of others. He wanted to establish a certain rigour and devotion to his work, a certain ethic and know-how. For example, it was important to establish a calm atmosphere during rehearsals in order to ensure a job well done. The conductor often began rehearsals by citing this rule. He seems to have succeeded in teaching his philosophy: with a smile, he recalls that most of the messages that he receives from former students are from those who were the most boisterous. These alumni now admit that the maestro was right, and they're grateful to have picked up his philosophy.
"It's not easy to make a group of young people understand the importance of singing in a sacred place like the Oratory," says Fr. Claude Grou, rector at Saint Joseph's Oratory. "With rigour and patience, Mr. Patenaude has for many years instilled all the young singers with this respect for the sacred." The Petits Chanteurs are effectively always present for Sunday mass. Religion "is the deal of a lifetime," says Patenaude. He therefore avoided imposing on students' spiritual development, even if, for him, his Christian faith is his priority. The maestro insists rather that singers "do it for those who come to mass."
Thus, "95% of singers are there for mass and other services at the Oratory," states Patenaude, in spite of their sometimes-diverse religious beliefs. The singers are indeed diligent. The young singers recently told him that one of their favourite performances was The Stations of the Cross, for which the music includes many sacred works. The choir often performs pieces taken from the secular repertoire, especially popular music.
How does the maestro succeed in training young singers? The fact that he's a layperson plays an important role: his experience as a parent has helped him to understand and direct his students. The rigorous selection process during auditions is certainly helpful: the Master requires that students demonstrate a certain amount of discipline. But the fact remains that the choirmaster knew how to establish a severe and demanding atmosphere, with the sole aim of producing valuable music. He admits that when he began, he indulged his humour, but he quickly realized that it was eroding discipline and modified his approach. It seems to have been effective: he recalls that during the entr'acte of one concert, he heard his singers relaxing and talking about nothing but music amongst themselves. It will be understood that Maestro Patendaude knew how to transmit by osmosis his passion for music.
For him, one "must be a musician first of all" in order to be an artistic director. But his priority is his faith, and his involvement with the Petits Chanteurs and Saint Joseph's Oratory is no surprise. For him, music is more important than the financial aspect or the glory. In 1978, he accepted the position not for the money or the status, but because it offered him the opportunity to serve others. Fittingly, his three favourite books are, he says, "the Bible, Jean Lafontaine's Fables, and The Little Prince by Antoine de Saint-Exupéry." All his beliefs can be found there, and they've certainly influenced his trajectory to become choirmaster of the Petits Chanteurs. After his last tour of the American northeast with his choir, Maestro Patenaude will retire in July. He bequeaths his students his passion for music, and especially his great energy and his values.
Translation: Rebecca Anne Clark
This page is also available in / Cette page est également disponible en:


Francais (French)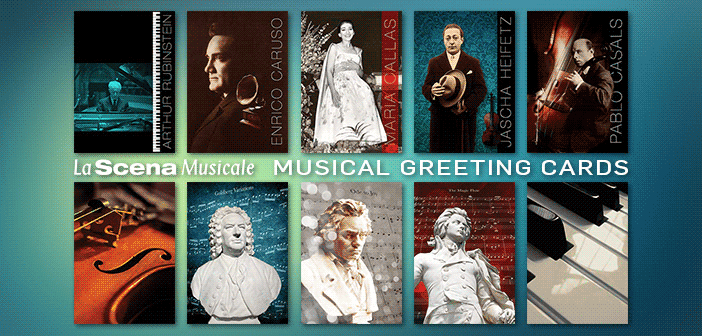 Source link