Advertisement / Publicité
This page is also available in / Cette page est également disponible en:


Francais (French)
OBERLIN CONSERVATORY
The Oberlin Conservatory of Music joins a consortium created by the Denyce Graves Foundation.
The Metropolitan Opera partners with four elite Historically Black Colleges and Universities as well as four of America's pre-eminent conservatories to provide unparalleled music and professional development opportunities for young singers from diverse backgrounds.
Advertisement / Publicité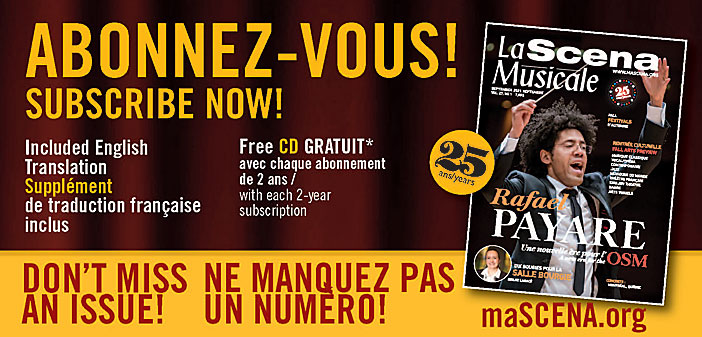 The Oberlin College and Conservatory has just entered into a historic agreement with the UN. To kick off the partnership, the Oberlin Orchestra and three choral ensembles, with an international roster of soloists, will give a performance at Carnegie Hall on Dec. 2 for the 77th United Nations General Assembly. The December performance is only the first of two trips to New York City for Oberlin Conservatory ensembles this academic year. In January, they will be taking about 250 musicians to NYC to perform at Carnegie Hall again, and will feature the Black Canadian composer R. Nathaniel Dett, who graduated from Oberlin in 1908.
Finally, the Oberlin Conservatory has invested in a student-focused program to make it easier to afford all the things that musicians need while they are gaining experiences that help them in their future professions. Internal granting programs support entrepreneurial ventures, summer programs, financial support for unpaid internships, and even funding for those unexpected repairs to instruments.
MANHATTAN SCHOOL OF MUSIC
Critically acclaimed trumpeter and educator Ingrid Jensen has been appointed Dean of Jazz Arts division at Manhattan School of Music. Jensen, a Vancouver native who was raised in Nanaimo, B.C., has been hailed as one of the most gifted trumpeters of her generation. After graduating from Berklee College of Music in 1989, she went on to record three highly acclaimed CDs for the Enja Records label, soon becoming one of the most in-demand trumpet players on the global jazz scene.
James Gandre, president of the Manhattan School of Music, is a major contributor to the new book, LGBTQ Leadership in Higher Education, published in August by Johns Hopkins University Press. The book is edited by Raymond E. Crossman, with a preface by Charles R. Middleton—and, according to the publisher, is "the first of its kind; 15 LGBTQ presidents and chancellors in higher education provide insight into their experiences and highlight the importance of queer leadership for the academy and the world."
The 11th annual Joan's Closet, open exclusively to Manhattan School of Music students, took place at MSM's Ades Performance Space in September. More than 200 MSM students benefit each year from donated performance formal and semi-formal attire in this annual event, established by Joan Taub Ades.
SAN FRANCISCO CONSERVATORY OF MUSIC
Intelligent.com, a resource for online and on-campus program rankings and higher-education planning, included the San Francisco Conservatory of Music (SFCM) in its list of the "Best Master's in Music Degree Programs in 2022." The organization's research identifies 50 top programs in the U.S. based on flexibility, faculty, course strength, cost, and reputation. San Francisco Conservatory of Music was awarded "Best Two-Year Program" on the final list.
EASTMAN SCHOOL OF MUSIC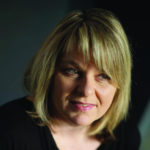 A fixture in Montreal since her arrival as a student at McGill University in the early 1990s, jazz composer and saxophonist Christine Jensen (sister of trumpeter Ingrid Jensen) has recently joined the teaching faculty of the Eastman School of Music in Rochester, New York. She takes over the baton from Bill Dobbins as an Assistant Professor of Media and Contemporary Studies where she will teach both jazz composition and direct large ensembles. What's more, in the spring she will appear as guest director of the Hessischer Rundfunk jazz radio orchestra in Germany. (Marc Chénard)
UNIVERSITÉ DE MONTRÉAL
The Orchestre Métropolitain (OM) and the Faculty of Music of the Université de Montréal are pleased to announce the signing of an important collaboration agreement to develop the talent of music students. This three-year partnership is in keeping with the educational mission of the OM and the Faculty of Music's desire to offer professionalizing experiences to its student community. Students from the Faculty of Music will benefit from privileged opportunities to meet with works, musicians or conductors linked to the Orchestre Métropolitain's programming. On a regular basis, the two partners will work together to develop stimulating and enriching projects that will support the next generation of musicians in disciplines such as composition, conducting, music mediation and performance.
On Sept. 14, Musique 3 Femmes de Montréal and Ensemble vocal Arts-Québec awarded the Mécénat Musica Prix 3 Femmes 2022 to Canadian teams of female composers and librettists. This prestigious award is designed to encourage the next generation of composers. The winners in three of the four categories are graduates of the Université de Montréal: composer Analia Llugdar (Faculty of Music) in the French-language category; composer Alejandra Odgers (Faculty of Music) and librettist Nicole O'Bomsawin (Department of Anthropology) in the Aboriginal category; and Danaë Ménard-Bélanger (Faculty of Music), a lecturer in composition at the faculty, in the French-language category – Encouragement Award. The winners receive a $50,000 grant and musical and dramaturgical mentorship from renowned composer and playwright Luna Pearl Woolf. Their works will be performed in 2024.
UNIVERSITY OF TORONTO
Ellie Hisama, an internationally recognized music scholar, was named Dean of the University of Toronto's Faculty of Music for a five-year term beginning July 1, 2021. Hisama brought a wealth of leadership experience to the role. She joined U of T from the department of music at Columbia University, where she served as the music department's vice-chair, music theory area chair and, most recently, chair of the academic review committee in the Faculty of Arts and Sciences. Her scholarly work focuses on ethnicity, gender, sexuality and the social and political dimensions of music, including the work of musicians who have been largely overlooked.
A generous gift from Ian Telfer and Nancy Burke will support the construction and ongoing operations of a beautiful and innovative new venue for the University of Toronto's Faculty of Music. This gift is the largest ever received by the faculty, and one of the most significant in support of music in this country. The Jay Telfer Forum—named in honour of Ian Telfer's late brother, musician and screenwriter Jay Telfer—will provide Toronto's arts and culture sector with a much-needed mid-sized performance venue, where some of Canada's most inspiring music students can develop their talents and scholars can exchange musical ideas. A venue of this quality will also help attract notable artists to the city.
MCGILL UNIVERSITY
The Schulich School of Music welcomes Liliana S. Araújo, Ellen Bakulina and Isabelle Demers to the faculty this fall 2022. The school looks forward to the impact these three accomplished scholars and performers will make on the Schulich community in research and performance. Araújo, inaugural Assistant Professor in Performance Science, is a world-class researcher and experienced pedagogue in performance psychology in higher education.  Bakulina, Associate Professor of Music Theory, is an outstanding researcher and scholar and experienced educator in music theory and musicianship. Demers, Associate Professor of Organ, is a world-renowned performer and instructor having appeared in recital throughout Europe, Great Britain, Oman, China, Australia, New Zealand, the United States, and Canada. Sean Ferguson returns for a new term as Dean.
CONCORDIA UNIVERSITY
The Department of Music of Concordia University is welcoming Baron Tymas as Associate Professor in Jazz and Black Studies in Music. Tymas is coming from North Carolina Central University, where he taught guitar, jazz arranging, jazz composition, jazz combos and other courses for more than 20 years. His NCCU jazz combos earned national recognition in the U.S., both through live performances and recordings. He has given many clinics, workshops and lectures on five continents. He has released three CDs as a leader. Andrea Young will also join the Department of Music as Assistant Professor in Electroacoustic Studies. Young is a performer/composer of instrumental and electroacoustic music, specializing in a sound-controlling voice enabled through feature extraction and data-driven live electronics.

UNIVERSITY OF BRITISH COLUMBIA
Composer and professor Dorothy Chang of the University of British Columbia's School of Music wins the Western Canadian Music Awards' Classical Composer of the Year for her piece, "Flight" which is on the album Soaring Spirits and is performed by the UBC Symphony Orchestra with Jonathan Girard conducting. UBC Faculty member Paolo Bortolussi (flute), and UBC Audio Engineer David Simpson collaborated on this recording, which is available on Redshift Records.
This fall, UBC School of Music is welcoming Andrea Grant, who is joining the faculty as a Lecturer for the Voice and Opera Division. She comes from the University of Toronto Opera where she was the principal vocal coach. Grant is a highly sought-after collaborative pianist and vocal coach who enjoys performing in recital, opera and musical theatre productions. She has collaborated with internationally acclaimed artists and has performed in North America, Europe, and Hong Kong. UBC School of Music is also joined by Hyejung Jun who will be acting as Assistant Professor of Choral Conducting. Jun completed her Doctor of Musical Arts degree at the University of Cincinnati College-Conservatory of Music (CCM) where she conducted and assisted the CCM Chamber Choir and CCM Chorale and taught undergraduate conducting classes. She has also served as Assistant Conductor of the Women's Chorus at Xavier University.
UNIVERSITY OF ALBERTA
Soprano Miriam Khalil joins the Department of Music of the University of Alberta as Faculty Lecturer in Voice. Lebanese-Canadian, Juno-nominated artist Khalil has established herself as one of Canada's most versatile and expressive performers. She has become increasingly known for her non-traditional performances of opera, art song and concert repertoire.
UQAM
Caroline Marcoux-Gendron joins the music department at the Université du Québec à Montréal as an associate professor. Holder of a doctorate in urban studies (Institut national de la recherche scientifique, 2021), she specialized in sociology of culture and migration studies after obtaining a bachelor's degree in musicology, with a minor in anthropology, as well as a master's degree in ethnomusicology at the Université de Montréal. Her work combines musical and migratory themes through the questions of the career paths of migrant musicians, world music festivals and their audiences, as well as the relationship to music of immigrants living in Montreal. 
UNIVERSITÉ DE MONCTON
Canadian pianist Roger Lord took up his post as the new Head of the Université de Moncton's Music Department on July 1. From Moncton, N.B., Lord's various engagements have taken him around the world as he has performed as a soloist with symphony orchestras in North America, South America, Europe and Asia.
The Music Department also welcomes two of its alumni to its team. Sébastien Leclerc graduated from the Université de Moncton in 2008 with a bachelor's degree in music performance. He returned to Moncton in 2010 after obtaining a master's degree in performance from the University of Ottawa. He has quickly become a pianist and accompanist in demand in the region. Following his Bachelor of Music (Composition) degree from the Université de Moncton in 2020, Sasha Louis Leger earned a master's degree summa cum laude in Scoring for Film, Television and Video Games from the Berklee College of Music the following year. He has also furthered his composition skills by participating in the Film Scoring Academy of Europe's summer program in Bulgaria. This young composer has already received several commissions.
WESTERN UNIVERSITY
Accomplished academic and administrative leader Susan Lewis joined Western as vice-provost (academic programs) on Sept. 2, 2022, for a five-year term. Concurrent with this appointment, Lewis will also hold an appointment in the Don Wright Faculty of Music as tenured Professor of Musicology in the Department of Music Research and Composition. As a scholar of early modern European music, across her research, she is focused on questions of musical and cultural networks, translation and reception, and the broader intellectual and artistic frameworks in which music flourished in the 16th and 17th centuries.
The London Symphonia Fellowship program is a new initiative funded by Western's Strategic Priorities Fund. Starting in December, these young musicians will join the Symphonia for all of the main stage full orchestra programs for the 2022-23 season. They will receive regular mentorship and feedback from members of London Symphonia and will be paid for their work during all rehearsals and concerts. In addition, there will be a workshop in February 2023 open to full-time Western students, with advice about succeeding at auditions, offering a full package of orchestral training and experience.
Université de Sherbrooke
For the Université de Sherbrooke, the start of the new school year went very well with a particularly enthusiastic new cohort and the addition of a professor (Ariane Couture) and specialists in piano (Serhiy Salov), classical voice (Myriam Leblanc), pop guitar (Pierre-Luc Rioux) and jazz trombone (Matthieu Van Vliet) to the team.
Conservatoire du Québec
Tenor Marc Hervieux was nominated on June 1 at the Helm of the Conservatoire du Québec. "The prestige of the Conservatoire speaks volumes about the quality of the teachers and administrators who have succeeded one another in this mecca of artistic education in Quebec," he says. Among his priorities, Hervieux highlights the goal of establishing a solid funding system to ensure the Conservatory's future. "This is a core part of our mandate, as a government institution, to offer schooling to young people with minimal fees. We must continue upholding our fundamental mission of training exceptional musicians from all walks of life, regardless of their social status, so that everyone has access to this prestigious training based solely on their talent and determination to become a musician or dramatic actor."
Hervieux's arrival at the helm of the Conservatory coincides with the preparation of a new strategic plan that will benefit from consultations with the members of the newly created Circle of Honour and Outreach consisting of 10 prominent figures: Alexandre Da Costa, Marie-Thérèse Fortin, Ève Landry, Marie-Nicole Lemieux, Robert Lepage, Marie-Josée Lord, Yannick Nézet-Séguin, Catherine Perrin, Lorraine Pintal and Jeff Stinco.
For Hervieux, the experience and competence of the existing team, combined with the expertise of these accomplished artists will be invaluable to the student community. "This collaboration will be a source of inspiration, and will bring with it a wealth of knowledge and renewed vitality which will benefit all our students," says Hervieux.
www.conservatoire.gouv.qc.ca
This page is also available in / Cette page est également disponible en:


Francais (French)