If you happen to travel through Paris on the Métro, as I did recently, you'll see huge, distinctive posters for this year's Aix-en-Provence opera festival flash past. Sandwiched round "Stravinsky – Ballets Russes", you'll see the names of two British composers, George Benjamin and Philip Venables, writ large and proud – doubtless in the expectation that Parisian commuters will be sufficiently intrigued to plan a summer trip to the opposite end of the country to see their new operas.
Both premieres are actually coproductions, with the Royal Opera House and Manchester international festival respectively, so they will wend their way to the UK in due course. But it is hard to imagine they'll get quite as much fanfare on British mass transportation systems.
Benjamin himself has just won the Siemens prize, which is a major award given annually to a prominent figure in classical music. Some of the field's greatest names – Ligeti, Stockhausen, Abbado – have won it over the past 50 years. It is worth €250,000 (£220,000), compared with £50,000 for the Booker and £40,000 for the Turner prize. Would you know about this accolade from reading the British press? You would not. Still, it so happens that the German newspaper Süddeutsche Zeitung thinks Benjamin compelling enough to have run a piece, as does German broadcaster NDR.
Have you heard the story about the choreographer smearing a critic's face with dog faeces? If curious, you might have Googled the theatre in whose foyer this nasty act took place: Hanover state opera house. Leaving aside the incident itself – which resulted in the perpetrator being fired – consider that in a city roughly the size of Bristol or Sheffield, there is an opera house employing a permanent ensemble of 30 singers, along with another 30 dancers in its resident ballet company. Pop in and see a production of Britten's The Turn of the Screw, if you like.
I am used to the massive disparity in standing of opera, in particular, and classical music, in general, between the UK and our neighbours. But the sight of Venables' and Benjamin's names pasted to the walls of the Paris Métro, just at a time when England seems to be doing its best to dismantle what little it comparatively has of operatic infrastructure, struck me peculiarly painfully.
Since November, when Arts Council England (ACE) announced it was removing its regular funding from English National Opera to make it a smaller operation based somewhere outside the capital, Glyndebourne Opera has also, in the face of a 50% cut to its grant, announced it is cancelling its annual tour – a remarkable irony given that hitherto it has been taking its excellent-quality work to venues only outside London.
The company has been touring since 1968; no longer. Farewell, Milton Keynes, Liverpool, Norwich and Canterbury. Farewell, what had been an extraordinary nursery of talent, in which brilliant young singers and conductors cut their teeth and developed their careers. Welsh National Opera, too, has had a 35% cut to its ACE grant. It has already announced the end of touring to Liverpool, and two other venues hang in the balance.
Companies can only take so much of this: one opera boss gloomily told me they now feared they were in a "downward spiral". The young British tenor starring in a new production of Rusalka at the Royal Opera House, David Butt Philip, said in an interview last week that his best advice to young British classical musicians was to move out of the UK as fast as they could. On Saturday, I went to a devastatingly brilliant production of Wagner's Rhinegold at ENO, so powerful it left me speechless and in tears. But in the wake of the funding announcement the company's full Ring Cycle, barring miracles, is cancelled, and also at the Metropolitan Opera, the cycle's co-producer.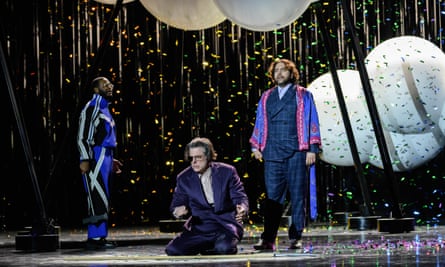 No one seems to think this little operatic revolution is going well. Nadine Dorries, whose instruction as culture secretary to ACE to remove resources from London resulted in the body cutting ENO, has (conveniently) washed her hands of the matter, calling ACE's decision shocking, lazy and politically motivated. ENO has also managed to annoy the mayor of Greater Manchester, a region early on mooted as a possible new home. "If you can't come willingly, don't come at all," said Andy Burnham. (An understandable reaction – though, since ENO has had this dumped on it from above, it is not surprising it shouldn't seem wildly keen.) Maybe people in Stoke or Blackpool or other places that have seen their arts funding increase as a result of the government's levelling-up agenda are secretly rubbing their hands gleefully at the thought of carpenters or flautists or lighting technicians or wardrobe specialists working in opera losing their jobs. But I suspect not.
At the Arts Council, there's an impatience with all the criticism: the old operatic touring model wasn't working, the big old theatres weren't filling, it argues. (Paradoxically, it is now commissioning an analysis of opera and music theatre, which you might have thought would precede rather than follow a series of grave decisions.) And of course its hand was forced, in that Dorries insisted that £24m of arts funding should be taken out of London. Someone had to take the hit and ENO was the low-hanging fruit, according to this logic.
ACE, in its mysterious recent guise not as a "funder" but as a "development agency", seems to have decided that the Dorries intervention could be used to do some much needed breaking of eggs – shaking up the opera sector and moving it away from the thing that happens with orchestras in big theatres. Which after all is embarrassing, unwieldy and expensive, and hopelessly elitist – sentiments unvoiced, but that always sit in the air when discussing opera in Britain. The energy in opera, the council argues, is with the smaller, nimbler companies making work in found spaces: "opera in car parks, opera in pubs, opera on your tablet", as the chief executive of ACE, Darren Henley put it.
But, however brilliant the reimaginings of opera in smaller or found spaces, the thing that happens with orchestras in theatres is the art form. The form as artists have conceived it, all the way from Handel and Mozart to George Benjamin – notwithstanding a wonderful, and growing, smaller-scale repertoire.
Of course, if you starve something, run it down constantly, gradually reduce the provision of it so that few can afford it, it becomes "elitist": it's a closed loop, a self-fulfilling prophecy. And if opera in the form that its creators imagine it becomes for toffs, that is nothing to do with opera itself. It is absolutely extrinsic to the art form, and precisely the result of neglect, and underfunding, and starving of resources, and shame, and embarrassment, and lack of care.
Which is what we've been drifting towards in Britain for years – and is how you end up with the names of great British operatic creators, while we still have them, plastered proudly over the Paris Métro, but barely recognised here.