For a work that changed the course of dance, introducing a blast of modernism into a conventional art form, Vaslav Nijinsky's The Rite of Spring had a surprisingly short shelf life. Despite more than 130 fraught and complicated rehearsals as the dancers struggled to get to grips with the stylised steps and Stravinsky's radical rhythms, Sergei Diaghilev's Ballets Russes performed it only 10 times before consigning it to the history books.
Even the famous riot that greeted its premiere in Paris on 29 May 1913 is a subject of some dispute. In his new book, Diaghilev's Empire, Rupert Christiansen says that there are more than 100 accounts of the events of that night and they are "wildly at variance and even downright contradictory… Some scarcely dwell on the hubbub."
But what is without doubt is that from the second the soaring bassoon starts to play the melody that marks the opening, the music has propelled itself into the heart of western culture, its searing power undimmed by time. I heard Stravinsky's score and read about Nijinsky's Rite long before I saw any version of the ballet, poring over descriptions of its creation – where a young Marie Rambert was recruited to help with the counts and then quietly fell in love with its creator – and looking at photographs of the dancers in poses with turned-in legs and uncomfortable felt costumes.
The first production I ever saw was Kenneth MacMillan's at the Royal Ballet, made in 1962 and slightly dated now, with its Sidney Nolan designs and dancers in long matted wigs and pointe shoes, like predatory insects.
The music never fails to thrill, but the ultimate fascination of Rite is just how wide-reaching its inspiration has been: two new versions, one by the South African choreographer Dada Masilo, the other by the British dance-maker Seeta Patel, are about to tour the UK. Both have their roots far outside western ballet and now take their place alongside more than 150 danced versions of the Rite already in existence, dating back to 1920 when Léonide Massine made one to replace Nijinsky's original.
That Rite's US premiere in 1930 starred a young Martha Graham, who went on to create her own version at the age of 90. The American choreographer Lester Horton switched the action to the wild west; the pioneering Mary Wigman and the dramatic Maurice Béjart emphasised the erotic qualities of a piece that culminates in a virgin dancing herself to death. Michael Clark's Mmm… added music by the Sex Pistols and Stephen Sondheim and featured his mother giving birth to him on stage.
The majority, though, follow the pattern mapped out by Stravinsky in collaboration with the Russian mystic and expert on folk rituals Nicholas Roerich, who conceived the work as a pagan rite in which a tribe of elders welcome the spring by sacrificing a chosen maiden to guarantee the earth's continued fertility. The score is divided into sections with titles such as Procession of the Sage and Glorification of the Chosen One.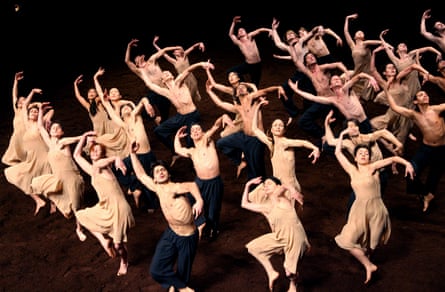 Perhaps the most influential modern version was made in 1975 by the dance theatre pioneer Pina Bausch. Performed on an earth-covered floor, it emphasises the patriarchal, animalistic nature of the ritual, portraying a terrified young woman sacrificed to appease the misogyny of the male elders. A touring production of Bausch's piece, performed by a specially created company of dancers recruited from 14 African countries, was one of the three versions of Rite seen at London's Sadler's Wells theatre last year. (Dancing at Dusk, a film capturing its creation in Senegal in the middle of Covid returns to Sadler's Wells's Digital Stage this month.)
This was followed by the distinguished Swedish choreographer Mats Ek's re-envisioning for English National Ballet that staged Rite as an intimate family drama, with an arranged marriage as its theme. Finally, the flamenco dancer Israel Galván performed a devastating solo flamenco interpretation that seemed to hold a conversation with the splintering complexities of Stravinsky's score. Both are choreographers who are finding new ways to interpret the music and the narrative arc. "I wanted to tell the story in a way that makes it mine, in the way I read the music," Ek told me at the time. "The music is my guidance, and I have to have my own meeting with it."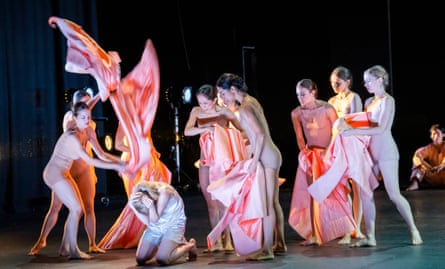 The same was true of Wayne McGregor's AfteRite, first seen in 2018 and revived by La Scala Ballet last year, which used the fractured harmonies as a different route through the music and set the piece in a world in the grip of a climate emergency, where a mother's sacrifice may be fruitless. McGregor consciously recognised the history he was grappling with. "It acknowledges the Rites I've seen, but also alludes to a sort of retinal burn of current themes and ideas, and to a speculative future."
It is the weight of its themes that attracted Dada Masilo to The Rite of Spring and provided the springboard for The Sacrifice, which has its UK premiere at Brighton Dome on 21 February and then tours the UK. Masilo, who was raised in Soweto, and who has built a reputation around reinterpretations of classics such as Giselle and Swan Lake, danced an extract from Bausch's Rite when she was a student at the contemporary dance school Parts in Brussels.
"I was very intrigued," Masilo says. "I'd never heard Stravinsky before and so that was the beginning for me because I love complex rhythms and just the discordance, going from soft to loud without being able to count. I never count music. I think you must do it just by feel."
Although the music was her starting point, she has jettisoned it for her performance. Masilo asked her musicians to listen to the Stravinsky and absorb its intensity but then compose their own music. Her choreography is based on Tswana, the traditional dance of Botswana, from where her family originate. "I wanted to find a narrative that was not so linear – not just dance, dance, dance and then a maiden who dances herself to death. I wanted the audience to see the maiden's journey and how the community prepares. My Sacrifice is influenced by the rituals and traditions of South Africa, where sacrifice is very important."
Masilo brings joy into the interpretation, showing a community at work, and then revealing the necessity of sacrifice for renewal: it is a mother who brings her child to the ritual, and the interpretation is full of grief and mourning for the loss of children rather than the violence of many other versions. It was inspired in part by the death of Masilo's grandmother, whose funeral she could not attend.
"It's a grief and a healing," she says. "We all make sacrifices in our lives and I think this sacrifice is about cleansing, about something needing to be given to the earth in order for something to grow, for something to happen. If you look at what is going on in the world right now, it feels like the whole world just needs cleansing."
This idea of taking one of the centrepieces of the western canon and introducing it to new cultural influences also extends to Seeta Patel's version of Rite, which is at Sadler's Wells next month, with a UK tour later in the year. This piece, for 12 dancers, six men and six women, is an expanded version of her 2019 work, and will be accompanied live by the Bournemouth Symphony Orchestra.
Patel's starting point was very specific. She combines contemporary dance with the classical Indian dance bharatanatyam, traditionally a solo form. When she decided to explore its potential in group dances, she deliberately experimented by setting it to western scores that had been much choreographed by western choreographers. The Rite of Spring struck a chord. "It just called to be made," she says. "There is so much in the music that is symbiotic with bharatanatyam."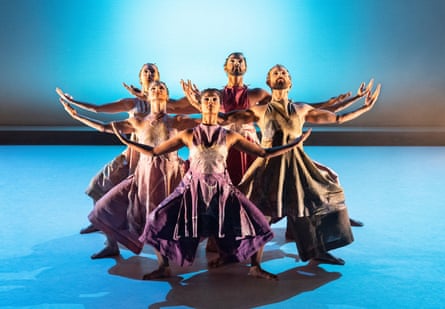 She worked by listening to the piano score played by a pianist friend, who explained bar by bar how the fiendish rhythm scheme could be broken down into counts. Patel then translated it into the counts that you would associate with south Indian classical music in order to help her dancers into the piece. "With big, symphonic western scores there are so many things all going on, all at the same time. It's nice to pick that out and create a visual that ebbs and flows, that lifts and flies."
Patel's version, in which the chosen one becomes a divinity, places the sacrifice as part of a cyclical process of birth, death and renewal – and in her view takes it back to the pagan ideas that influenced Roerich. "Christianity and Abrahamic religions are very terminal," she says. "You die and you go to paradise. Whereas deeply rooted within paganism is the idea of birth, life and destruction to create rebirth. It really does lend itself to a non-western philosophy."
Diaghilev's first press release for the incendiary Rite promised "truly a new sensation which will undoubtedly provoke heated discussion". More than 100 years later it is as vital as ever.
The film Dancing at Dusk is available free on demand on the Sadler's Wells Digital Stage, 17 February to 13 March