Lukas Foss and Ivry Gitlis, 2022
This Week in Classical Music: August 22, 2022.  Likas Foss and Ivry Gitlis.  Last week we inadvertently missed an important anniversary: the 100th birthday of the German-American composer, pianist and conductor Lukas Foss, who was born in Berlin on August 15th of 1922 (he moved to Paris in 1933 and to the US in 1937).  We wrote an entry about him two years ago, so today we'll just play some of his music.  Here's a charming Lulu's song, from Foss's 1953 comic opera The Jumping Frog Of Calveras County. Judith Kellock is the soprano, the composer is on the piano.  And here, from 1959-60, is the first part, We're Late, of Foss's Time Cycle for soprano and orchestra.  Adele Addison is the soprano, Leonard Bernstein leads the Columbia Symphony Orchestra.  (A note about Adele Addison:  she was born in New York in 1925 and is still with us, at the age of 97.  Addison was educated at Princeton and later continued her studies at the Juilliard.  She sang several opera roles but was better known as a recitalist and concert singer, especially in the contemporary repertoire and Baroque music.  She was at her peak in 1950s and 60s, when she often sung with the New York Philharmonic under the direction of Leonard Bernstein.  She later taught at the Manhattan School of Music – Dawn Upshaw was one of her students.  Though not especially relevant, but Adele Addison, like Leontyne Price, Shirley Verrett, Grace Bumbry, Jessye Norman, and Maria Ewing, is black.)
We also have another centenary: the Israeli violinist Ivry Gitlis was born on August 22nd of 1922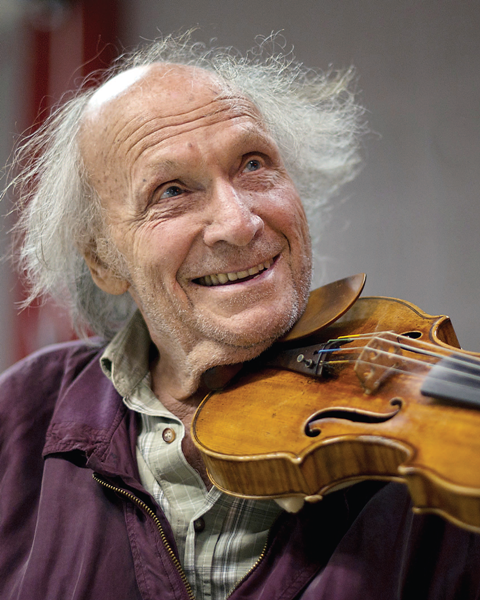 in Haifa.  His parents had emigrated from Kamianets-Podilskyi in western Ukraine the previous year.  Ivry took up the violin at the age of five, and at the age of eight played to Bronisław Huberman, the famous Polish violinist who was visiting Palestine (several years later, in 1936, Huberman founded Israel's first symphony orchestra, the Palestine Symphony Orchestra, now called Israel Philharmonic).  Huberman was impressed and organized a fundraiser to send Ivry to France for further studies.  In Paris Gitlis went to the Conservatoire where his teachers were George Enescu and Jacques Thibaud.  During WWII Gitlis moved to the UK (which probably saved his life) and performed many concerts for the troops.  In the 1950s he traveled to the US, where he met Jascha Heifetz and, under the management of Sol Hurok, established himself as one of the premier violinists.  Later in the 1950s he returned to France. 
Even though Gitlis played a wide contemporary repertoire (and had many pieces written for him), he was rather old-fashioned when playing the Romantics.  You can hear it in this interpretation of César Franck's Violin sonata which he played in 1998 with none other than Martha Argerich (this is a live recording).  Gitlis was then 78.  He died in Paris on December 24th of 2020 at the age of 98.
Several composers were born this week, Ernst Krenek, Leonard Bernstein and Karlheinz Stockhausen among them.  Claude Debussy, who was born on this day in 1862, 160 years ago has a special place in our heart.  Check out our library, it has about 250 recordings of Debussy's works, so if you wish to celebrate him today, browse it and find something to your liking.  It's very much worth it.