Advertisement / Publicité
Hearing new SMCQ artistic director Ana Sokolovic talk about the 2023 Montreal/New Musics (MNM) festival, it's hard not to get excited. "I joke that the only problem with this festival is that it is in Montreal. It's because when we go to the festivals very often it's not in our city, and then we go to spend the entire time in that city. And we're seeing absolutely everything," she said.
"Everything is happening during the events—during the concerts, but also in between the concerts. During the lunch, during the supper, during the cocktail, having this opportunity to talk with people from outside—and it will be interesting to meet them, to talk to them and to make just a very, very interesting period of reflection, of communication and of music."
Sokolovic is enumerating the 10-day festival full of 17 concerts, journées d'étude and conferences on the theme of music and spirituality. "And where is today's spirituality? And we know that there is spirituality, but which kind? How it's changed, you know, and that's why we have some old contemporary music, and some new contemporary music."
Advertisement / Publicité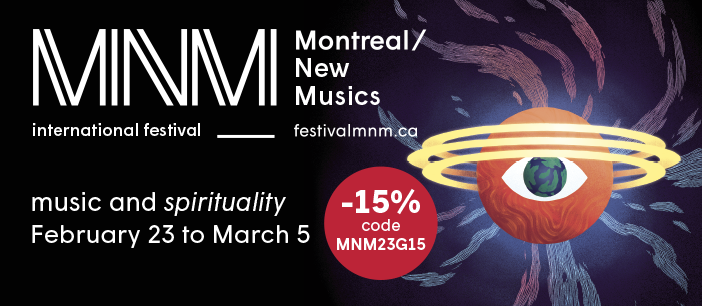 Some Highlights
The festival opens with a creation by composer Katia Makdissi-Warren performed by the Ensemble Obiora and Ensemble de la SMCQ under the direction of Cristian Gort (SMCQ principal conductor). The program will be rounded off with Symphonie minute by the late José Evangelista.
The Indigenous perspective are featured at the Maison symphonique: Notinikew by Andrew Balfour (see article). In Golgot(h)a, Walter Boudreau's passion joins that of Christ to musically revisit the Way of the Cross with poems by Raôul Duguay and narration by Pierre Lebeau. The SMCQ Ensemble joins forces with I Musici and Louise Bessette under Jean-François Rivest to offer Messiaen en deux temps. During the "Nuit blanche à Montréal" event, night owls can take advantage of La Grande Nuit, a state-of-the-art facility that explores the different nuances of sound in a 32-speaker immersive dome! Finally, the Illuminations by composers Brian Cherney and Benjamin Britten, performed by the Orchestre classique de Montréal, will conclude these 10 days of new and exceptional music.
There will also be two international colloquia on the theme of Music and Transcendence in the Post-Humanist Era, two study days and a conference—Golgo(t)ha, Messiaen and Boudreau—before the Golgo(t)ha concert.
www.festivalmnm.ca