Advertisement / Publicité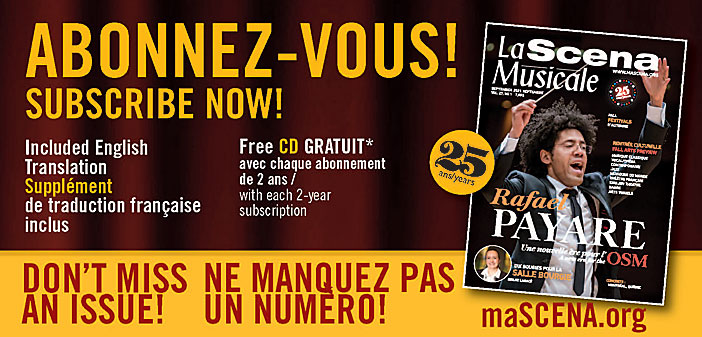 This page is also available in / Cette page est également disponible en:


Francais (French)
Autour de la flûte, a Montreal-based company founded in 2004 by flutist Mika Putterman whose mission is to promote the flute and educate the public about the history of the flute, presents Music at Home, a series of eight video vignettes produced with the financial support of the Canada Council for the Arts, which was established to support artists during the COVID-19 pandemic. These eight vignettes were shot at different times since the beginning of the pandemic, over a period of approximately one year.
Originally trained on a modern instrument, Putterman discovered baroque music when she was in college, asking many questions about the history of music and ways to perform baroque music. Her teacher directed her to Claire Guimond, a well-known baroque flutist in ­Montreal. The young flutist discovered a new world and became ­increasingly interested in early instruments and the subtleties of ­historically informed performance and the evolution of the flute through the ages.
Advertisement / Publicité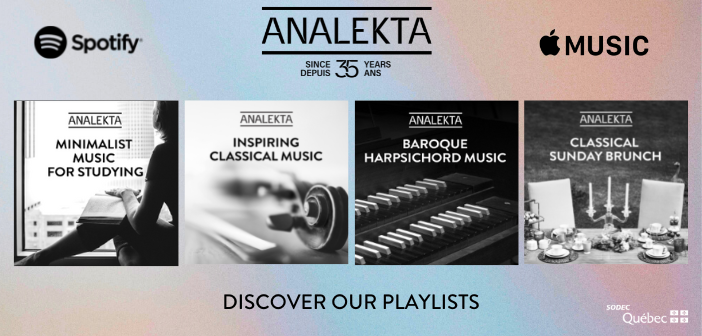 Music at Home is above all a great story of friendship, almost ­family, between Putterman and Aleks Schürmer, flutist, programming ­consultant and head of marketing and social networks at Autour de la flûte. The great complicity of the duo, both musically and personally, helped the development of the musical project in the midst of the ­pandemic. The two met in 2004, because they had the same professor at McGill University and were in the same musical circle, and they quickly developed a deep friendship. So much so that Mika jokingly asked Schürmer to be nanny to her four children so she could pursue her career and musical endeavours. "The kids loved him and instead of using someone I didn't know, why not use a friend? It also allowed us to talk about music and create projects together," says Putterman. "It's important to talk about it because I'm a woman, I'm a mom, and I have a career in a tough world. The pandemic has brought to light this need for work-life balance for many people."
It's also a desire to present chamber music in an intimate way—the way it was thought of and created before the rise of large modern ­concert halls. "The way we listen to music nowadays, especially in ­concert, is not historical at all," explains Schürmer, one of the project's instigators. "The term chamber music refers directly to rooms, small halls, not stadiums or auditoriums. The uninitiated may be intimidated by the idea of going to a concert, so we decided to do something very simple, with musicians and programs as diverse as possible."
This is how Music at Home came to be, with the aim of offering short videos of about 20 minutes each, captured in the home of one of the musicians, featuring professional Montreal musicians from all walks of life and short eclectic musical programs. The representation of the Montreal music scene was at the heart of the project. Emerging and veteran musicians, baroque, classical, jazz and world music: everything has its place. The project was made by and for the musicians, from the recording to the performance. The proximity of the ­musicians, in small rooms without reverberation and with high-­quality microphones, makes it possible to hear every detail. "These are not concerts. It's really us playing for ourselves in complete intimacy, ­captured on the spot, as if through a keyhole," Schürmer says. "We ­captured moments of friendship and complicity. There is no musical editing in our capsules, unlike commercial recordings. We wanted to offer living music through these capsules, without the constraints and stress of concerts. There may be some imperfections in our recordings, but that's the reality of live music. For some pieces, we only did one take." Putterman adds: "We prioritized affect and music, rather than note perfection."
Since the mission of Autour de la flûte is to showcase the flute repertoire, all videos include flute pieces of all types—from the modern ­contrabass flute to the Japanese shakuhachi and, of course, the baroque, romantic and classical flute. The music is presented with ­simplicity by the musicians. "We put the music first, it speaks for itself. We don't need to add effects or movement. It's really a human experience of music," explains Putterman.
Takeout Symphony, the first video, will be launched on Oct.14 ­featuring Putterman on romantic flute, Sallynee Amawat on violin, ­Andrea Stewart on cello and Gili Loftus on fortepiano. They perform excerpts from Beethoven's symphonies arranged by Hummel and some works by Beethoven and his collaborator, Bridgetower, the forgotten black violin virtuoso who was famous in his day and who premièred Beethoven's famous Sonata No. 9, Op. 47, known as "To Kreutzer."
"Our goal is not to single out a composer like Beethoven, but to ask the question 'Are certain things or people overrepresented?' Can we look at that person and look around? Beethoven and Bridgetower are a good example," Schürmer says. "He was an important collaborator, a black violinist, and the only one who could play the famous sonata. Kreutzer himself never played it and said it was impossible to do. The only person who could play it at the time was a black violinist, but this fact is ignored." Putterman adds: "People often take history for granted. We've done a lot of research and found anecdotes to see if what we know is really true. And we still ask ourselves questions: Why was the sonata dedicated to Kreuzter? Was it a question of racism in Beethoven's time? This is just one example. The results of our research have allowed us to make choices of pieces and guide the programming of the capsules."
The varied programming has many surprises in store, including a work by Charlie Chaplin, a cellist and composer in addition to being an actor, performed in the Serious Music capsule to be released on Oct. 21. This same video includes a work by Albert Ketèlbey, the greatest composer in England in his time and the first millionaire musician, now forgotten.  Other videos will feature Debussy, Mozart's contemporaries such as Boulogne, Devienne and Stamitz, works by Frederick II of Prussia, Anna Amalia and Carl Philipp Emmanuel Bach, Japanese music, jazz and even musical comedy.
The capsules will be broadcast every week for eight weeks and will then remain available for listening, without time limit. A subscription is required to access the online platform. Each capsule will be accompanied by program notes, including personal comments from the musicians. The theme of each capsule will also be explained. "We hope that the videos will be watched by families, with children, to learn about music and unknown instruments. We believe that children are capable of staying focused for 20 minutes on this beautiful music and learning to appreciate it," says Putterman.
As culture makes an exciting return this fall, this series of videos ­offers an alternative for those who may not be ready to go to the ­theatre or who prefer to stay in the comfort of their own home, and is available globally.
Starting Oct. 14 on www.musicathome.tv

www.autourdelaflute.com
This page is also available in / Cette page est également disponible en:


Francais (French)
Source link