Advertisement / Publicité
This page is also available in / Cette page est également disponible en:


Francais (French)
Montreal, January 3rd, 2023 – François Girard begins an exceptional season with no less than three productions coming to New York City in the first six months of 2023. After the resounding premiere of Lohengrin at the Bolshoï Theatre in Moscow, where his staging received a standing ovation, this Wagner opera will be presented from February 26th to April 1st at the Metropolitan Opera under the direction of Yannick Nézet-Séguin. At the same venue, Le vaisseau fantôme, which Girard directed in 2020 and whose presentation was cut short by the COVID crisis, will be revived from May 30th to June 10th. In between, Girard will present The Hunting Gun adapted from the novel by the famous Japanese author Yasushi Inoue by Quebecer Serge Lamothe, which premiered at Usine C in Montreal and the NAC in Ottawa in 2010 and was revived in Tokyo in 2011 and 2016. The play will run from March 15th to April 16st at the Baryshnikov Arts Center and will feature Japanese actress Miki Nakatani and Mikhail Baryshnikov.
Directing three plays in a row in the U.S. metropolis is a major challenge for François Girard. "It will be an intense period for me, especially since the rehearsals for two productions will overlap," said François Girard, who seduced audiences and critics in the Big Apple during the creation of Parsifal.
Advertisement / Publicité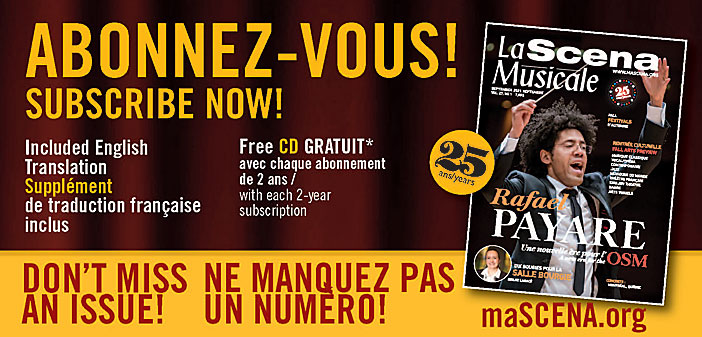 ---
François Girard has made a name for himself as a screenwriter and director of films as well as opera and theater. In 1993, Thirty-two Short Films on Glenn Gould would go on to garner international success. Five years later, The Red Violin, winner of 9 Jutra Awards and 8 Genie Awards – including Best Film, Best Screenplay and Best Director – as well as the Oscar for Best Original Score, enshrines Girard on the international movie scene. This was followed by Silk in 2007, which he adapted from the novel by Alessandro Baricco, Boychoir in 2014 and Hochelaga, Land of Souls in 2018, which represented Canada in the Oscar race for Best Foreign Language Film (now Oscar for Best International Film). His latest film The Song of Names, opened in 2019. Also of note is Peter Gabriel's Secret World, which won him the Grammy for Best Concert Film in 1995.

In 1997, Girard made his operatic debut with the staging of Igor Stravinsky and Jean Cocteau's Œdipus Rex/The Symphony of Psalms. His other opera credits include Lost Objects (2004), Siegfried (2006), Seven Deadly Sins/Lindbergflug (2006) and Emilie (2010). He also directed Parsifal (2013) and The Flying Dutchman (2016) at the Metropolitan Opera in New York and presented Lohengrin at the Bolshoï Theatre in Moscow in January 2022.

In the theater he directs Alessandro Baricco's Novecento (2001), Franz Kafka's Trial (2004), Yasushi Inoue's Hunting Gun(2010), Samuel Beckett's Waiting for Godot (2016), and Glen Berger's Underneath The Lintel (2020). For Cirque du Soleil, he wrote and directed ZED, Cirque du Soleil's first show in Japan (2008) and Zarkana, which was performed at New York's Radio City Music-Hall, the Kremlin Theatre in Moscow, Madrid and Las Vegas. To date, François Girard's productions have won more than a hundred international awards and the appreciation of audiences around the world.

https://www.metopera.org/season/2022-23-season/lohengrin/

www.thehuntinggun.org

https://www.metopera.org/season/2022-23-season/der-fliegende-hollander/
This page is also available in / Cette page est également disponible en:


Francais (French)