Advertisement / Publicité
This page is also available in / Cette page est également disponible en:


Francais (French)
Montréal, Thursday, November 17, 2022 – The Orchestre classique de Montréal (OCM) returns with its annual performance of Handel's Messiah in the Crypt of Saint Joseph's Oratory on Tuesday, December 13 at 7:30 p.m. This traditional concert will provide the perfect family outing to get everyone in the holiday spirit! Patrons who purchase one adult ticket will receive free admission for a child aged 12 or under.
The OCM is dedicating this Messiah performance to the late conductor Gilbert Patenaude, who passed away on November 13. As the Artistic Director of the Chantres Musiciens choir, Gilbert Patenaude was a regular at OCM's Messiah for several years.
Advertisement / Publicité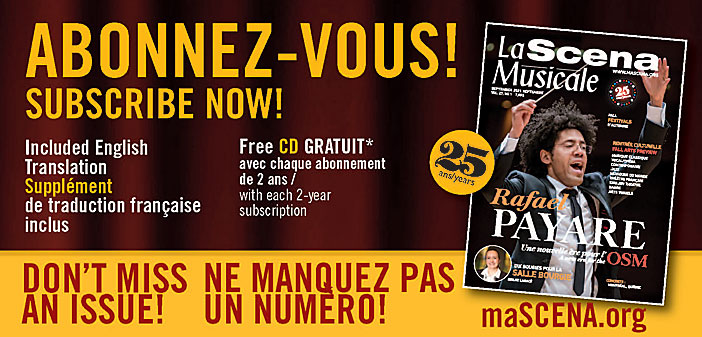 Maestro Simon Rivard, the conductor of the Toronto Symphony Youth Orchestra, will lead the OCM musicians, while the first-rate lineup of soloists will include soprano Hélène Brunet, contralto Rose Naggar‑Tremblay, tenor Zachary Rioux and baritone Phillip Addis. They will be joined by the Montréal choirs Filles de l'île, led by Jacqueline Woodley, and the Chantres musiciens, led by Julien Patenaude.
"It was with great sadness that we learned of the recent passing of Gilbert Patenaude, a friend and faithful colleague of the OCM." says Taras Kulish, executive director of the OCM. "He was to be with us again this year at the helm of the Chantres musiciens. We will be paying tribute to him, where his son Julien will join us in leading the choir."
Hélène Brunet won a prestigious Juno Award (2022) for her first solo album Solfeggio (ATMA Classique) with the ensemble L'Harmonie des saisons. Yannick Nézet‑Séguin has described her as "the embodiment of class, refinement, and purity."
Contralto Rose Naggar‑Tremblay took home first prize at the OSM Competition in November 2021, and last June she was named a Révélation Radio‑Canada 2022‑2023. Le Devoir's Christophe Huss has hailed her as a singer "with a rare and precious voice."
Tenor Zachary Rioux is currently in his fourth year of studies at the Academy of Vocal Arts in Philadelphia. In addition to this appearance with the OCM, the New Brunswick native's 2022­‑2023 season includes performances with Edmonton Opera and Toronto City Opera.
Renowned Canadian baritone Phillip Addis continues to wow audiences on major stages worldwide. This concert marks his return to the OCM after his acclaimed performance in the November 2020 Canadian premiere of the opera As One.
Handel's Messiah
Tuesday, December 13 at 7:30 p.m. – Crypt of the Saint Joseph's Oratory
Orchestre classique de Montréal
Hélène Brunet, soprano
Rose Naggar‑Tremblay, contralto
Zach Rioux, tenor
Phillip Addis, baritone
Filles de l'île, choir
Chantres Musiciens, choir
Simon Rivard, conductor
Tickets: $30 to $99 | Online at orchestra.ca
About the OCM

The Orchestre Classique de Montréal (OCM) was founded in 1939 by violinist, conductor, and composer Alexander Brott and cellist and manager Lotte Brott. Previously named the McGill Chamber Orchestra, the OCM quickly became one of Canada's most established chamber orchestras, touring five continents, recording extensively, and appearing regularly on radio and television. Boris Brott, OC, OQ, the elder son of Alexander and one of Canada's most internationally renowned conductors, led the OCM from 2000 until his death in April 2022. The OCM is a vibrant, innovative, and flexible ensemble consisting of the city's best professional musicians presenting concerts throughout the year and now in residence at the Salle Pierre-Mercure. Fulfilling its mission of celebrating diversity and inclusivity, the OCM has created the program Music for Everyone which enables collaborations with numerous new immigrant communities and Montreal organizations in making OCM's performances accessible to all. The OCM proudly acknowledges BMO Financial Group as its 2022-23 Season Presenter.
This page is also available in / Cette page est également disponible en:


Francais (French)