Scarlatti, Pasta 2022
This Week in Classical Music: October 24, 2022.  Brief entry: Scarlatti and Pasta.  Domenico Scarlatti, a son of Alessandro , was born on October 26th of 1685, the year that also gave us Johann Sebastian Bach and George Frideric Handel.  Domenico's piano sonatas are as popular as ever, though out of the 555 that he had written during his lifetime in Italy and Spain, only a few are played often, while most of them remain unknown.  Several pianists and harpsichordists, on the other hand, have recorded all of Scarlatti's sonatas; Scott Ross, who was the first one to record the complete set in 1985.  The British keyboardist Richard Lester also recorded all of them and the Italian pianist Carlo Grante is in a middle of his Scarlatti project, he's playing them on a Bösendorfer piano.  Here, almost randomly is Ivo Pogorelić playing Sonata in G minor, K. 450.
Luciano Berio, one of the most interesting composers of the second half of the 20th century, was born on October 24th of 1925.  And Georges Bizet was also born this week, on October 25th of 1838.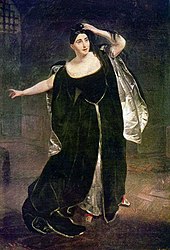 One somewhat unusual anniversary: Giuditta Pasta.  Pasta, born on October 26th of 1797 near Milan, was one of the greatest voices of the early 19th century.  Based on the descriptions of her contemporaries, she was a real "soprano sfogato".  Sfogato, a rare voice, has a very large range, from mezzo, or even contralto, to the coloratura soprano.  Many of the soprano sfogato roles were written by the bel canto composers of the 19th century, Rossini, Donizetti and Bellini.  Maria Callas may be considered a soprano sfogato: she sung mezzo roles, such as Carmen, Rosina and Cenerentola, and also Norma, Lucia de Lammermoor and Anna Bolena, which require a very high tessitura, reaching the E above the high C.  Three famous roles were created specifically for Giuditta Pasta: Donizetti's Anna Bolena, which she premiered in 1830, Amina in Bellini's La sonnambula and Norma in Bellini's opera, both of which she sung in 1831.  In the absence of the recordings of Pasta's voice, here's Maria Callas in the Mad scene (Il dolce suona) from Lucia de Lammermoor, in a 1953 recording. 
Pasta performed in all major opera houses of Europe and also visited St-Petersburg: the portrait, above, by the Russian painter Karl (Kirill) Bryullov, was made there in 1830.
Source link