It took a lot of planning and alterations to reschedule line up but at last after what seemed an eternity in waiting this Festival was indeed back!
Billed as a Blues Festival it incorporated blues-based music but so many styles, Americana, Country Blues, Rock infused tones and even popular rhythms permeated down Ouseburn on an extremely hot and sticky weekend in Newcastle. Much kudos to the Organisers, Stag Crew and Sound Engineers, this was an almighty success and all for charity, a great weekend had by all who attended, and a very eclectic mix of bands entertained a rapt audience over the weekend.
Words: Colin Campbell    Pictures: Adam Kennedy
There was a palpable air of excitement before the first band The Redfish Blues Band took the stage. A word on that, it is quite deep and for a lot of the time especially band's drummers were hard to be seen. As this band had brought a Hammond Organ, it took up a lot of space, but was played expertly by Steve McGuckin. This band was on form from the start and their infectious fun and entertaining set was a noticeable theme throughout the weekend.
There was just a joy and that connectivity between the bands and the audience, something all music lovers embrace. They reinterpreted songs throughout including the breath-taking As The Years Go Passing By, Christian Sharpe's vocal delivery and articulate guitar work. Another highlight was their own song You Don't Love Me Baby, accentuating a powerful rhythm section. The upbeat Tear It Up, also was a hit with the audience.
Next on stage was a local solo singer songwriter Jonny Boyle, who gave a stunning performance throughout his set. Sharp clear vocals and passionate lyrics on Ordinary Day and some clever guitar loops on Don't Get Too Comfortable were intricate. Highlight was Hear Me Calling which he showcased as his new single unplugged, melodic, and passionate lyrics, consummate solo performance.
Final act was The Bates Motel Band another North East England band fronted by lead singer and guitarist "Bad" Bob Bates. They are six pic and full throttle entertaining band mixing roots-based Americana with Southern Rock, all original songs. Stand out tracks were Let Me Be Your Doctor which had R&B tones, the band cranking sound up. The Blues Ain't Gonna Feed Ya was also a danceable tune. Then Sausalito proved their slower tempo grooves were a good. Great camaraderie and musicianship added to the chemistry on final track I'm Having A Party, leaving the audience certain the first night was only the start of a special event.
Stan The Band opened the afternoon's musical extravaganza. They are a popular four-piece Newcastle rock band. Three lead guitarists and drums made this set special. Full of humour, these boys know how to work a crowd. They have a great rapport, and the groove is infectious, on tunes like Little Soldiers and the slower tempo to Midnight Angel.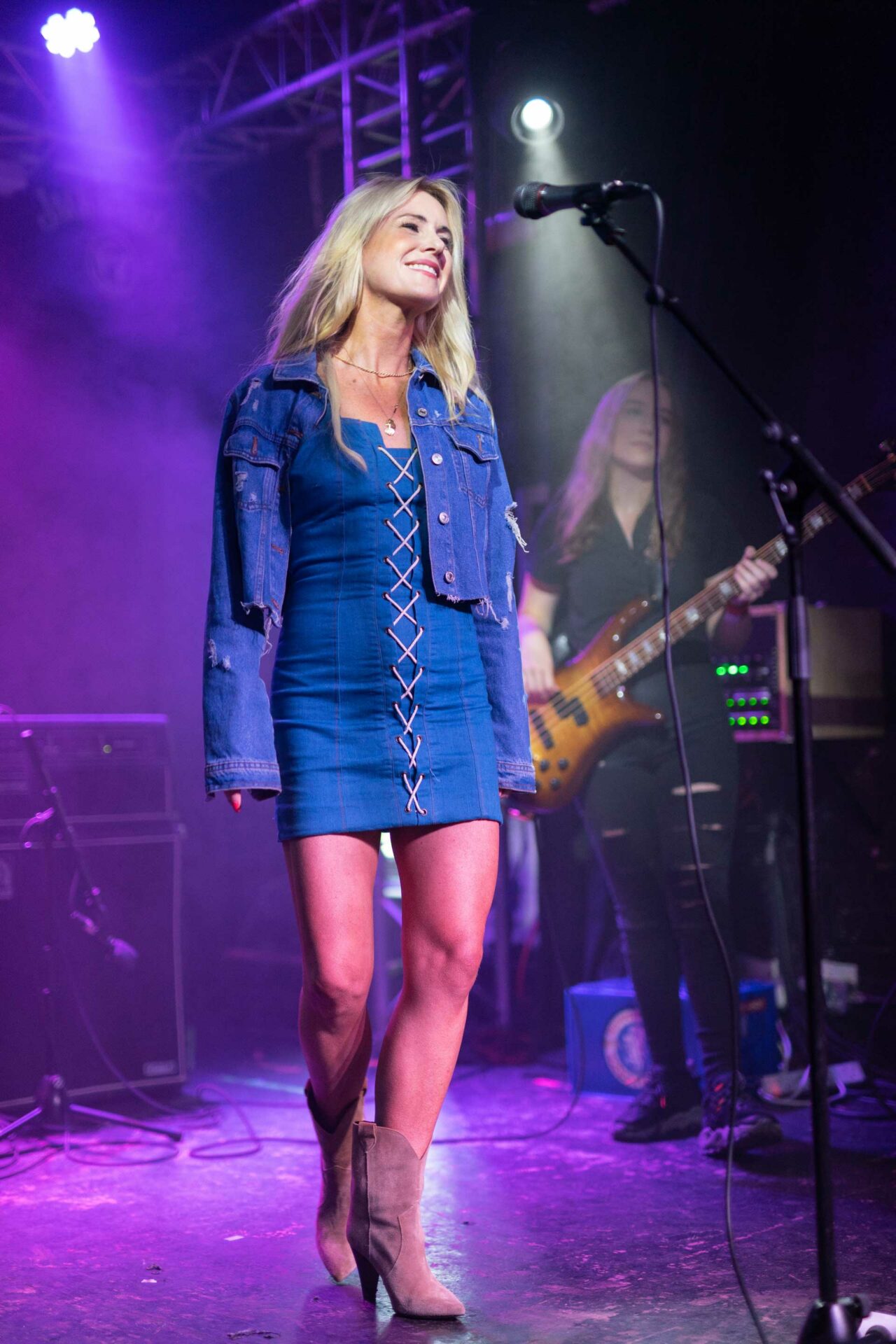 BAD BOB BATES did a solo set next, mixing genres and guitars with stomping rhythm and passionate vocals on My Brothers Son, his anti-war song. He even played the AC/DC tune; Hard Way To The Top, with crowd participation, something different!
Next on stage was the Laura Evans Band, comprising lead singer, Laura, Jason Coombs lead guitar, Daisy Pepper bass and drummer Jamie Dawson. They provided a dazzling entertaining set full of sweet and powerful vocals, wonderful guitar solos and a real mixture of styles, country, soul, and blues infused songs but also anthemic vibes to I'm Alright and State Of Mind. The harmonies throughout were excellent. Mess Of Me was an outstanding ballad delivered with emotion, Laura has a great vocal range and with a top-class backing band that make the tunes soar to another level. The guitar riff on Free was superb a great build up through the song.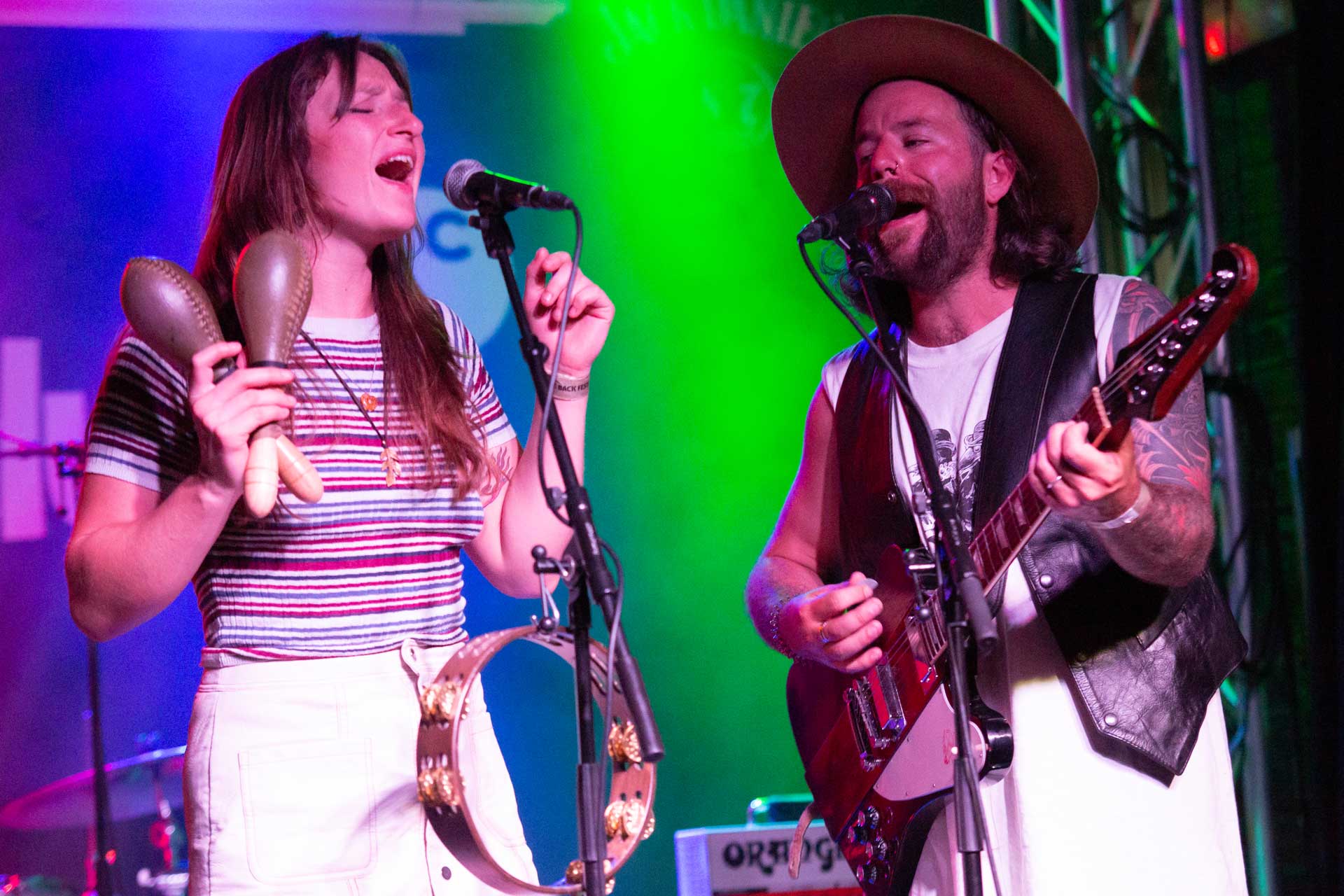 Seafoam Green provided the most interesting and eclectic set of the weekend. They are an Irish band consisting of front piece musicians and singers Dave O'Grady and Muireann McDermott Long backed by rhythm section drum and bass player. They mixed styles of Gospel, blues, Americana with their own twist. Think, Derek Trucks and Allman Brothers vibes and that is only two influences.
Starting with For Something To Say they made the stage theirs. Muireann's vocals blending with harmonies throughout with Dave adding his guitar licks. Whiskey, was another well appreciated tune, Dave taking vocal lead on laid back soulful tune. Lowly Lou has a catchy chorus, but a resounding beat throughout. At the end of this excellent set, they sang their version of the traditional Irish ballad Auld Triangle acapella style and silenced the audience what an encore and superb band.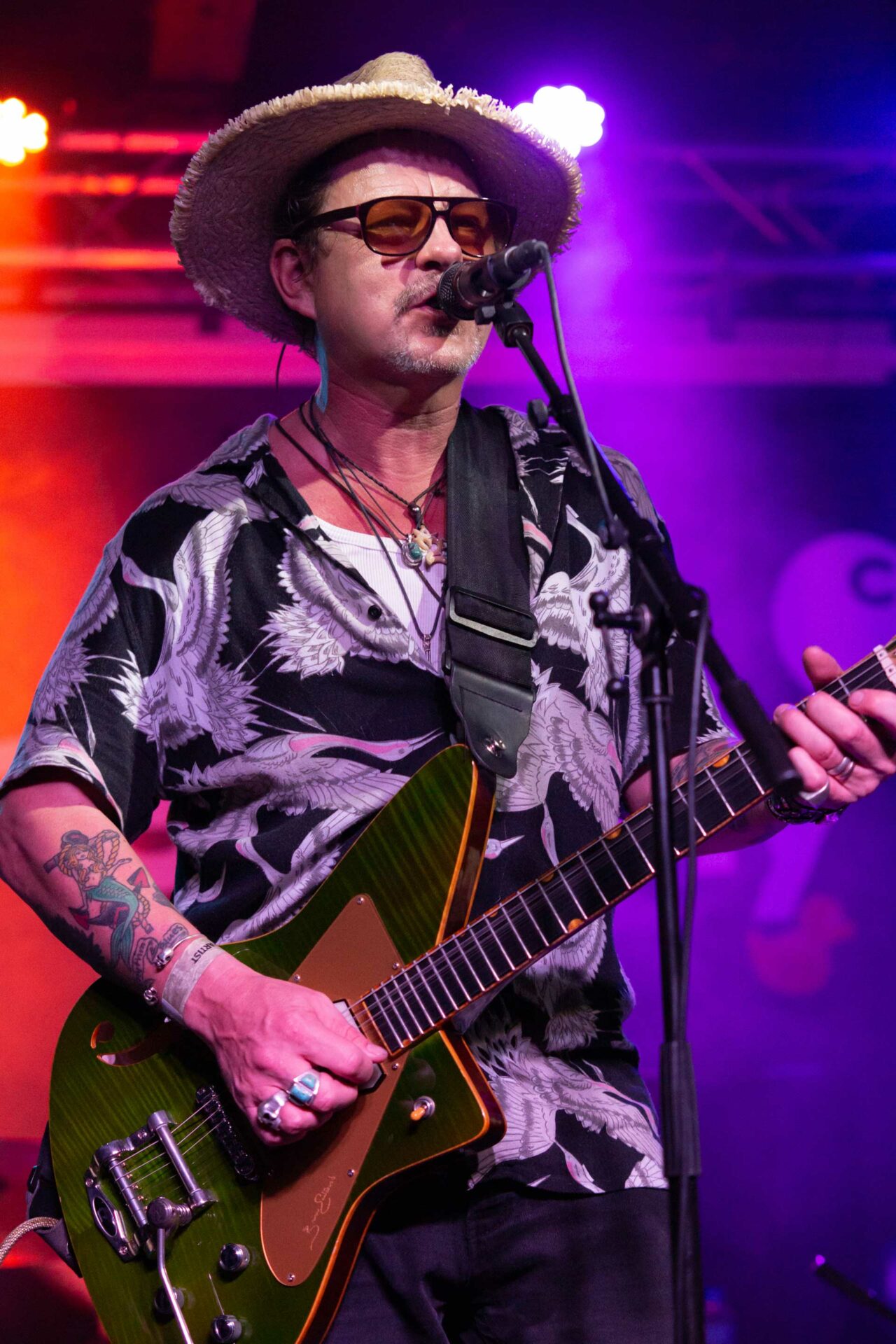 Headliners were The Ian Siegal Band with another mesmerising set. Ian had brought his Dutch band over especially and what a performance they put on. Resplendent in straw hat Ian looked like he was on holiday as the strains of first song The Train; started chugging in.the band played an eclectic set including songs from the new album Stone By Stone; including the Gospel tones of Working On A Building had dark tones to it. A crowd favourite was the rendition of Gallo Del Cielo which was just delivered with precision and perfection. Hill Country Blues was supplied via, She Got The Devil In Her. Hard Pressed had a New Orleans vibe. Special mention to the guitar hooks of Dusty Cigaar just phenomenal. Ian's vocals were gritty and powerful throughout none more so than on the encore Forever Young. Astoundingly tight four-piece band highly charged five-star performance.
The hottest day of the weekend provided another eclectic day of music. King Size Voodoo Traveller were first to share their musical talents to the audience. This is a four piece covers band but with their own slant on old favourites. Blues tunes and others were given the treatment, starting with a groove laden Pride And Joy. There was even time to apply an electric ukulele to Voodoo Child/ When I'm Cleaning Windows, a remarkably interesting version lots of wah wah pedal on this, superb. Top sounding band also played Southern Rock with a rendition of Take A Ride With Me. It was the Rolling Stones meets Lynyrd Skynyrd version of Dead Flowers that was the highlight, in your face timeless tunes, you cannot go wrong with a band like this.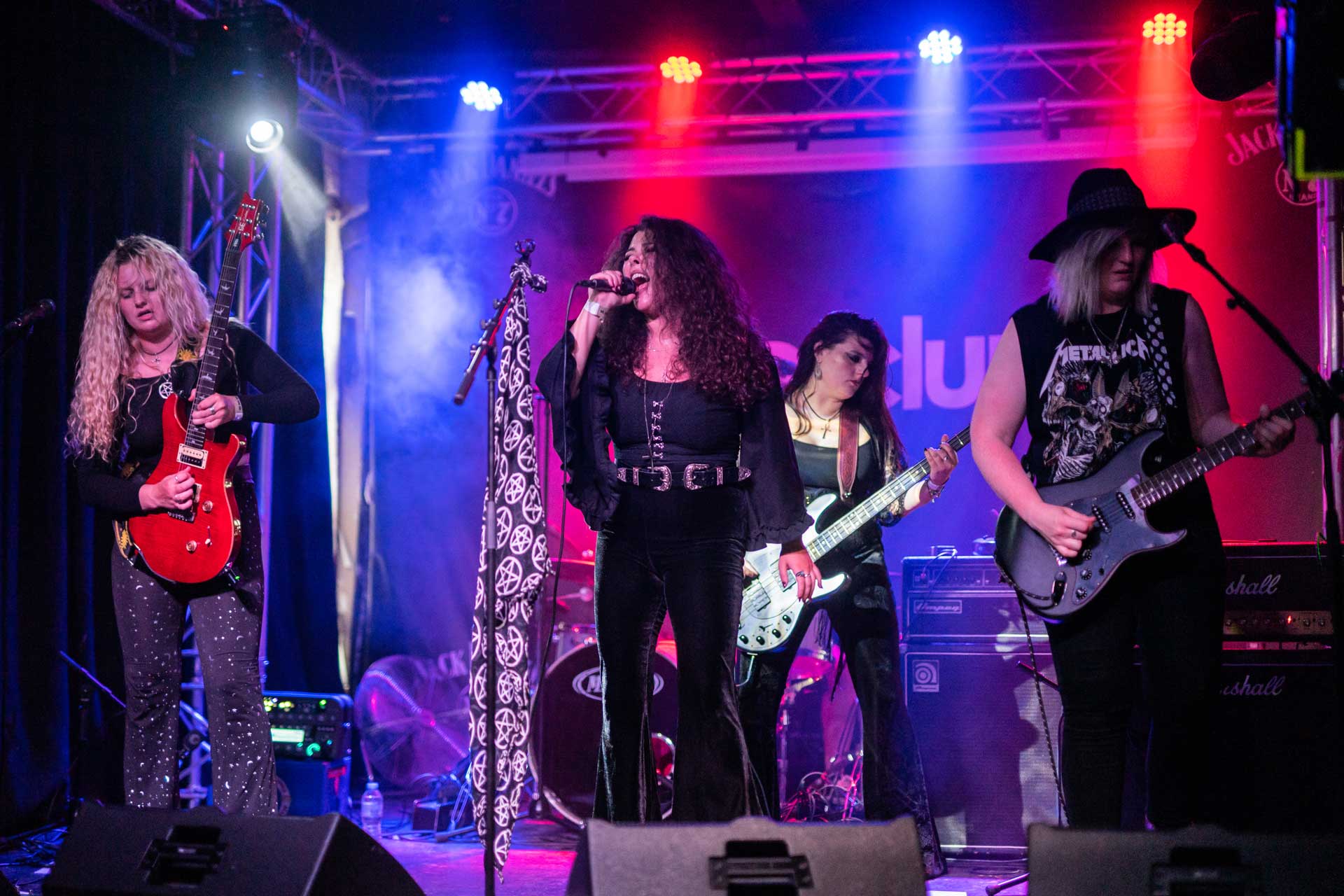 New band Crowley were next onstage, unfortunately had to miss this particular hard rock outfit but hearing great things about them, especially enjoying the new single The Witching Hour…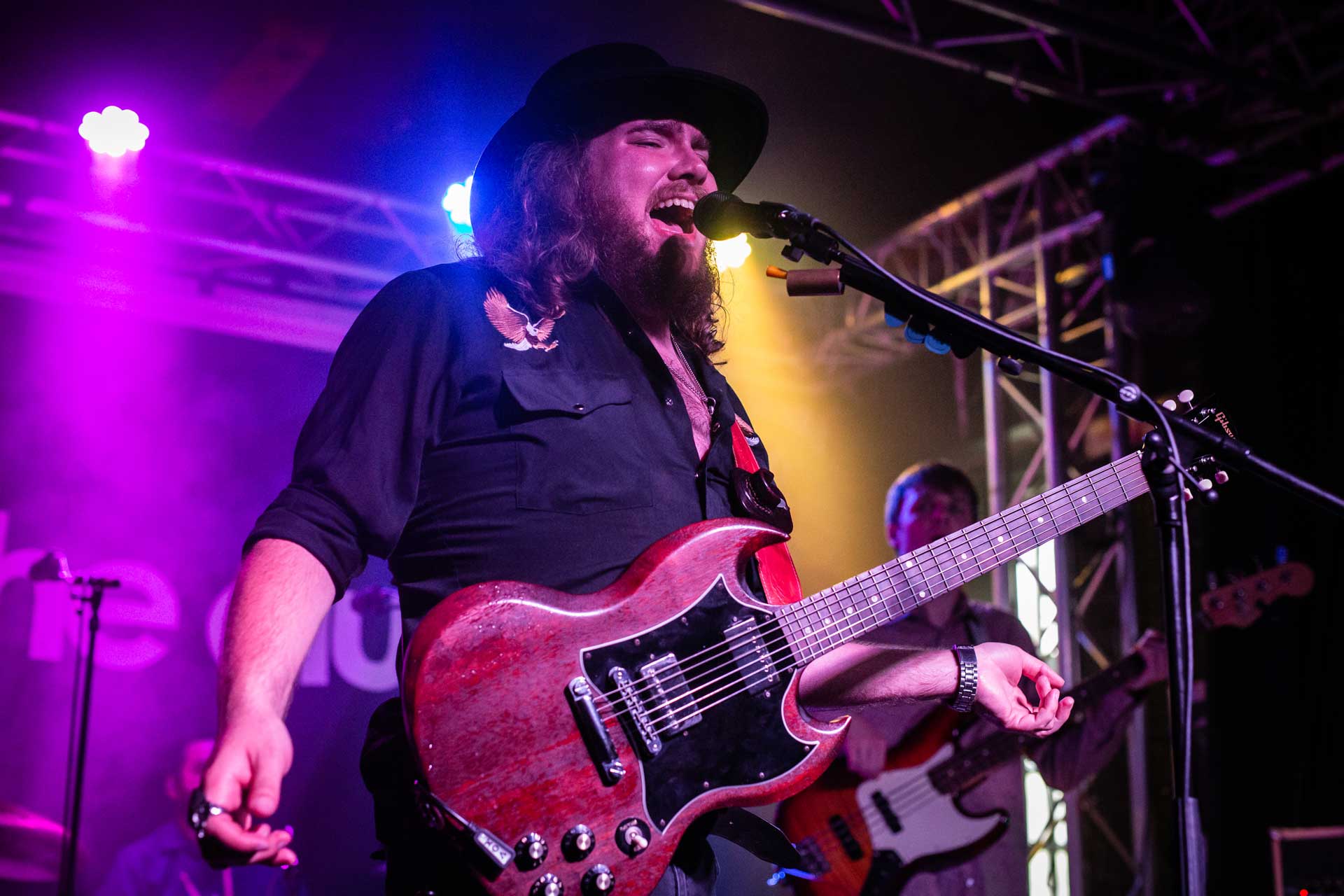 The band after this was The Tom Killner Band. They brought their own brand of Southern Rock via Yorkshire. Tom is lead singer and guitarist aided by drummer, bass player and keyboards. When Love Comes For You exemplified their full-on approach to their gutsy sound and when they get into a groove, watch out. Full of groove and rhythm they played with panache and drive on tunes like, Home. Particularly enjoyed the tempo changes. Devil Woman started funky with a great riff and showcased the band, interplay between Tom and keyboard player a joy. Light It Up finished what was a heavy loud sound, greatly appreciated by the audience.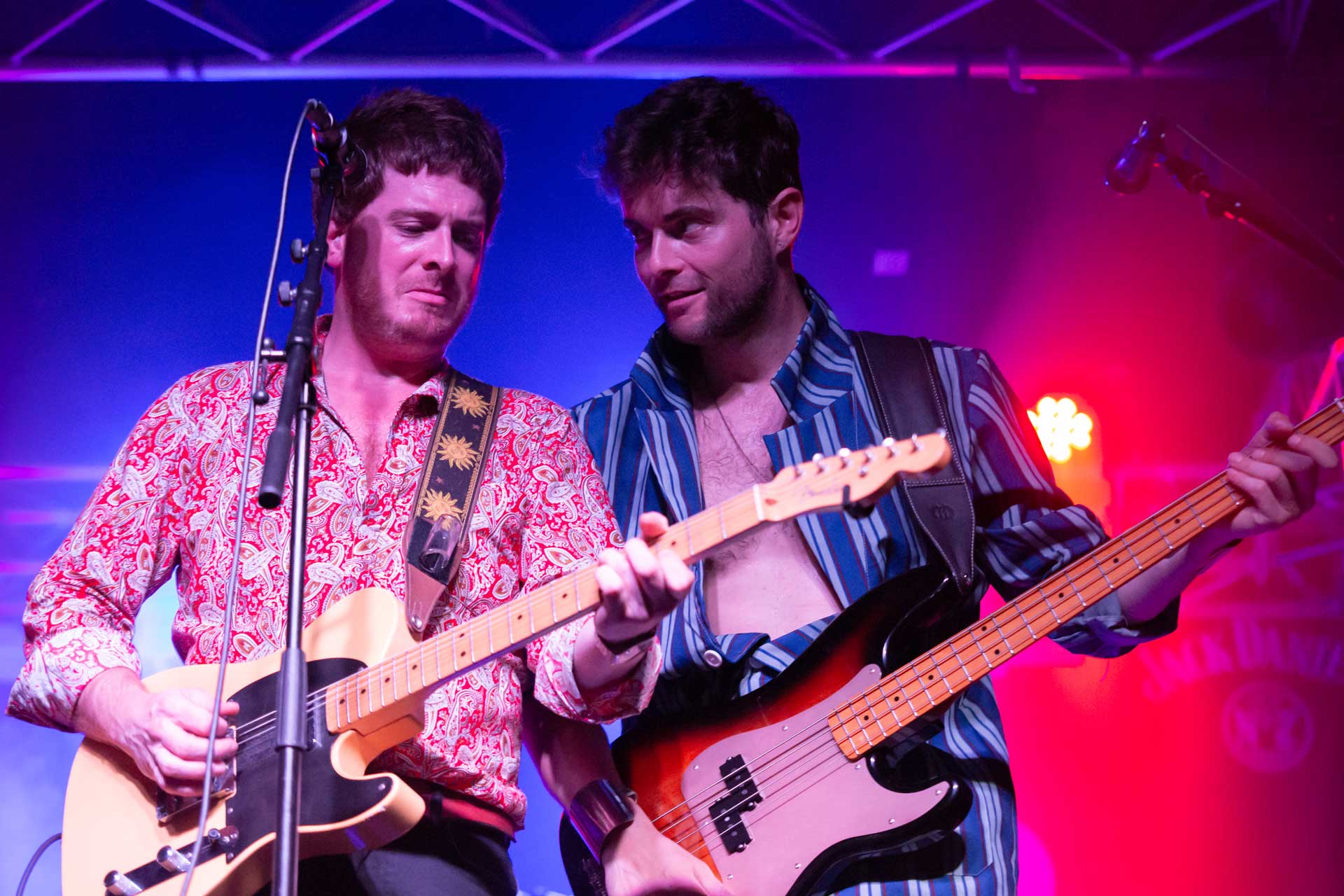 Next on were those mercurial favourites The Cinelli Brothers who delivered an outstanding set of old school R&B tunes mixing with Gospel, funk, and soul. A band on the rise that never play a set list the same at any concert, this was no exception. They fill a stage with vibrancy, passion and happiness that spreads through an audience.
They made the Cluny into a juke joint jam house playing tunes from Villa Juke joint album and new one No Country For Old Bluesmen. Save Me, brought some Chicago blues. Married Woman had a fantastic chorus a real crowd pleaser. Alessandro sung Dimples which was another highlight. Whilst Choo Ma Gum just had so many layers of sound it reverberated off the sweaty walls in the Cluny. They change instruments and singers throughout keeping the fresh approach to their performances.
Marco and Alessandro Cinelli are the brothers; Tom J Jones provides vocals harmonica and bass guitarist Stephen Giry adds the groove. This band is multi-talented and must be seen live to appreciate the nuances and subtle key changes and chords. Certainly, went down a storm with this audience, a hard act to follow as this was an outstanding set of tunes.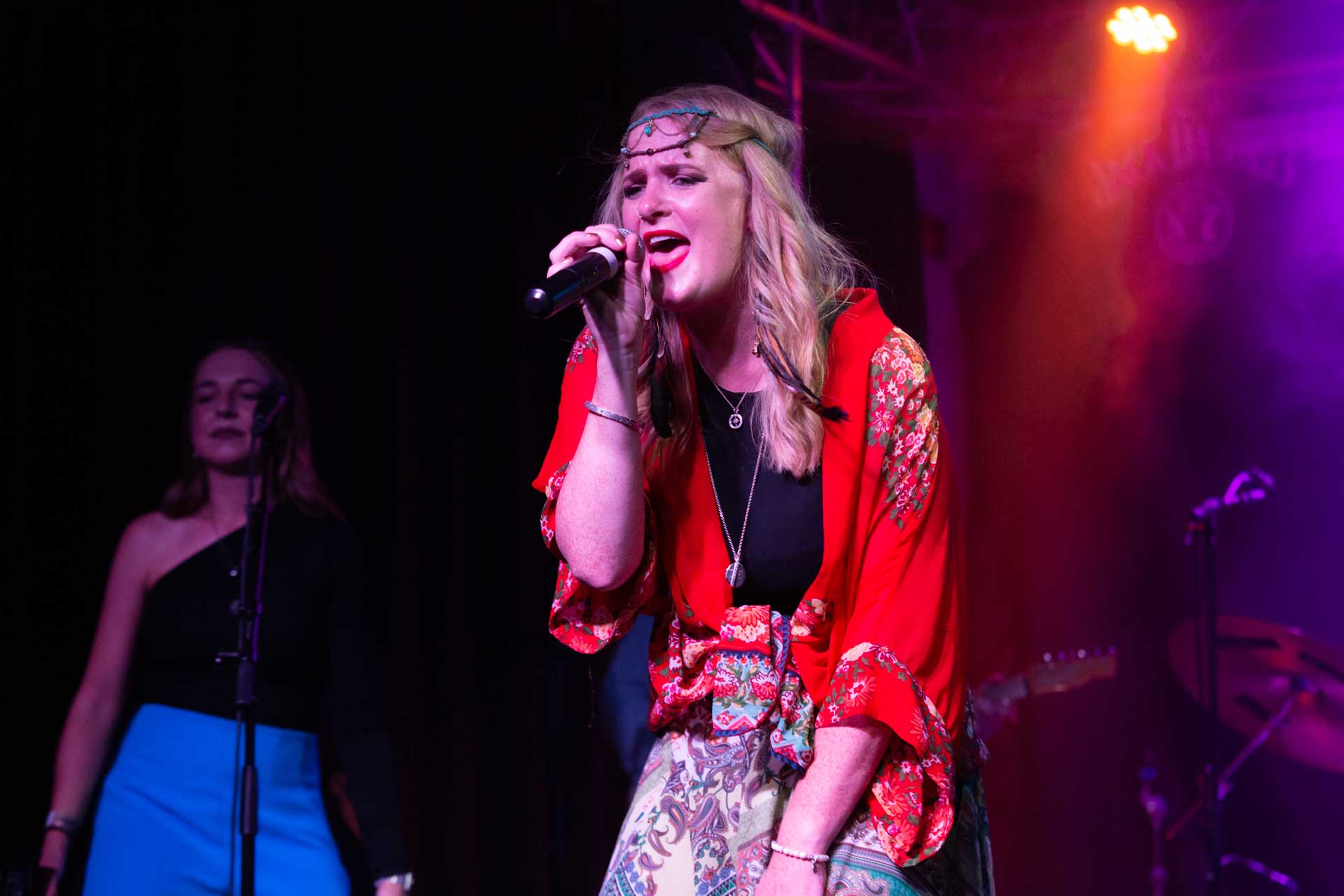 Well follow that they did! Enter Elles Bailey and her band who played a stunning set. The final headline act of a fantastic Music Festival. This was a polished performance from this band Elles delivered great vocal range ably assisted by Joe Wilkins on guitar, Stevie Watts on Hammond Organ, and stunning backing vocals from Demi Marriner. With a rhythm section of Matthew Waer on bass and Garry Kroll on drums they put on a great show. Twelve tunes of differing styles and notations that had the crowd baying for more at the end. Showcasing songs from her newest album, she started with The Game also played Stones that both packed a punch.
Then Stevie Watts highlighted on Perfect storm this had a great crescendo of sound throughout. The guitar work on When I Go Away was a masterclass. Elles kept the narrative going throughout the introductions to the songs and riding Out The Storm was a particular highlight. Help Somebody had some fine harmonies and the audience joined in with the choruses. Medicine Man opened with sultry vocals over slide guitar then it raged into a torrent, every lyric delivered with raw emotion. Penultimate song Sunshine City saw Elles doing a walkabout into the audience on this rocky tune. Final tune was Howlin' Wolf with more call and response type chorus with a rapt audience. A great song to close a Festival with.
The post We are back festival – The Clunie appeared first on Blues Matters Magazine.