Romanian finalist Maria Marica, 24 years old, wins the Violin Section of this year's competition

Open to cellists, violinists, pianists, and composers born after 1989, the 18th edition of the George Enescu International Competition is underway.
This weekend, the specialized violin jury decided on the qualified competitors for the Grand Final for the Violin Section. At the Grand Final, Romanian violinist Maria Marica won first prize, while Ștefan Aprodu won second prize andGrégoire Torossian took home third.
The three finalists were accompanied by the George Enescu Philharmonic Orchestra, conducted by maestro Wilson Hermanto. Ștefan Aprodu and Maria Marica performed Violin Concerto în D major Op. 77 by Johannes Brahms, while Grégoire Torossian performed the Violin Concerto in D major Op. 35 by Piotr Ilyich Tchaikovsky.
After the success of the competition's hybrid edition in 2020/2021, the 2022 competition is similarly comprised of a virtual first round, followed by in-person semi-final and final rounds. Both in-person rounds are taking place at the Romanian Athenaeum between September 4-18, 2022, and are being streamed here on The Violin Channel.
The Violin Section's jury comprised of Dmitry Sitkovetsky (President of the Jury), Remus Azoiței, David Grimal, Frank Huang, Simon James, Paul Kantor, Silvia Marcovici, Igor Petrushevski, and Krzysztof Wegrzyn.
The in-person program will include 19 recitals and concerts, representing both competition stages and recitals by this year's jury members. The winners of the 2020/2021 competition, cellist Jaemin Han, violinist Valentin Șerban, and pianist Yeon-MinPark, will also return to the Athenaeum stage as soloists.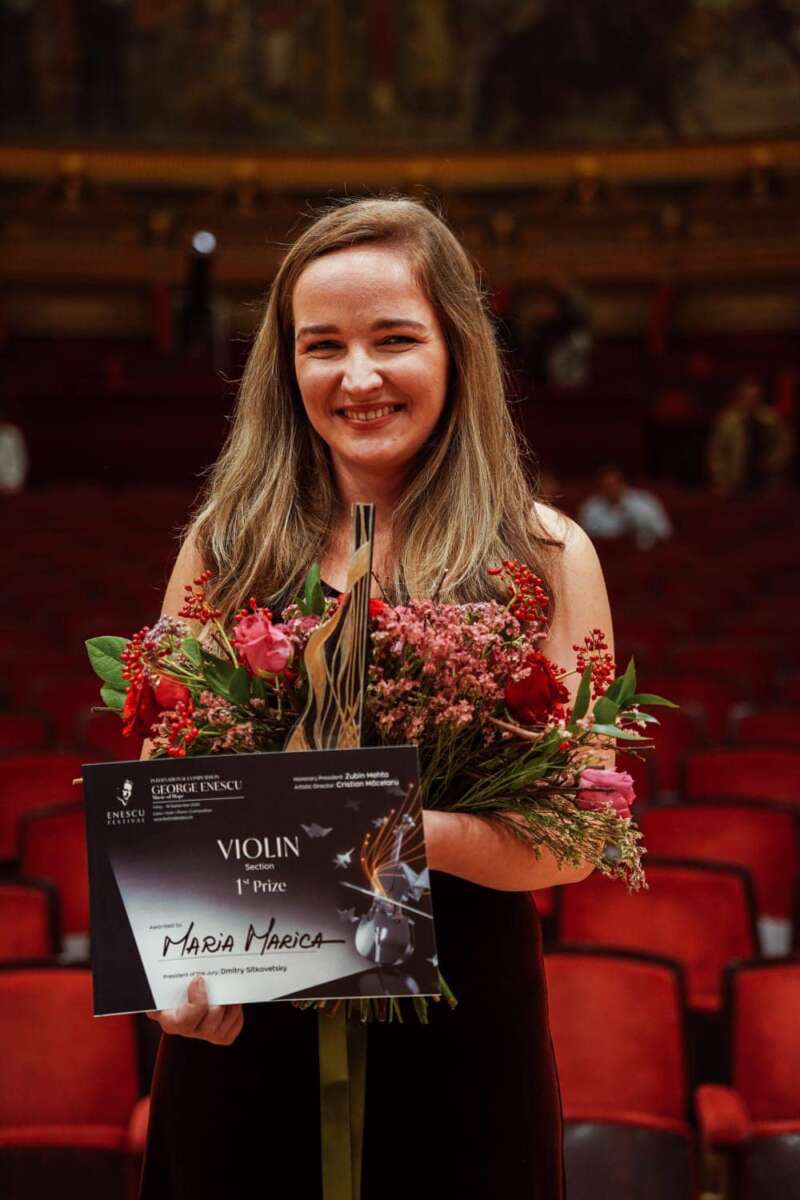 First prize winner Maria Marica was born in Cluj-Napoca, Romania, in a family of musicians, and started playing the violin at the age of seven. She studied with Nicușor Silaghi and is currently studying with David Grimal at the Hochschule für Musik Saarbrücken.
A finalist in the Luis Sigall Competition, she has had the chance to play chamber music alongside artists including Marc Coppey, Philippe Cassard, David Grimal, Frans Helmerson, Boris Brovtsyn, Sergey Malov, Victor Julien-Laferrière, and Solenne Païdassi.
She is a member of Les Dissonances, and she was also a member of the Romanian Youth Orchestra, and has participated in masterclasses with musicians such as Leonidas Kavakos, Nora Chastain, Mihaela Martin, Rosanne Philippens, and Gabriel Croitoru.
In 2021, she was an active member of the Violin Masterclasses in Kronberg, working with Kolja Blacher and Gerhard Schulz.
Source link