In January 2014, Lars Vogt stepped on to the stage at Sage Gateshead to make his UK conducting debut with Royal Northern Sinfonia. Lars had an endearing and quiet confidence, even when trying something new. I have witnessed him speaking at least nine foreign languages and presumed he was fluent on the assurance of the delivery, later discovering he only knew a few words. But fluency in the language of music was something Lars possessed in captivating abundance. And it turned out he could express this just as well with a baton in his hand: just a few weeks after the final chords of Beethoven's 4th Symphony had finished resonating around the hall, it was announced Lars was to become our next music director.
Starting his tenure in September 2015, Lars spoke of the "instant connection" he felt with the orchestra. This connection quickly and organically grew into something I have never known between an orchestra and music director: a collective trust and spirit of generosity between orchestra and maestro, borne not just of admiration for his talents and the music we were making, but also a love for his unfailing kindness and warmth.
To play a Beethoven symphony the way Lars Vogt played a Beethoven sonata was electrifying. In the early days of his conducting career, Lars said it made him feel as if he were flying. Our new partnership saw us flying around the world together, touring internationally and travelling throughout the local region. Between our busy concert schedule, we recorded the complete Brahms and Beethoven concerti, directed and played by Lars, to critical acclaim. The Sunday Times said of our recording of Beethoven's 4th Piano Concerto, "I can't recall a finer account".
Lars's humanity was tantamount to his talent, touching lives wherever he went. While I was collecting a takeaway curry last month, the owner ran over, recognising me from a meal I had once shared there with Lars – who dined there a little too regularly if I'm honest! He poured us both a drink and spoke of his admiration for the man and musician for 20 minutes. Audiences here adored him like no other artist I have shared a stage with. This morning on BBC Radio 3 the presenter read a message from a local audience member, remembering Lars's customary wink to concertgoers as he left the stage and how she genuinely felt this was personally for her.
As Lars leaves all our stages for the last time, I want to express on behalf of everyone at RNS and Sage Gateshead how much we treasure our generous share of his time in this world. We loved him dearly.
Lars Vogt, principal artistic partner of the Royal Northern Sinfonia, was the orchestra's music director from 2015-2020.
'He lifted music off the page and into the heavens'
Ian Bostridge writes: Lars Vogt was a master of the solo piano repertoire, a Mozartian of the first rank, a deeply committed lover of Brahms. It was lucky for me that he was also drawn to the wonderful world of voice and piano. Rehearsing with him was always a revelation, but best of all I remember our very first rehearsal, and our choice of encores. First of all, Brahms's Meerfahrt (Boat Ride): a curdled barcarolle of desolation in which Lars's piano sang the long melody with extraordinary intensity. Then Schumann's Mondnacht (Moon Night), which I'd performed many times before, and which I thought I knew so well. Lars lifted it off the page into the empyrean, abolishing bar lines and making it a thing of freedom and fantasy in a way I had never heard.
Lars was living in Theydon Bois at the time and it seemed rather wonderful to take the tube to the very end of the Central Line deep in the heart of Metroland and find there one of the kings of German pianism, a mixture of everyday London life and the high Romantic.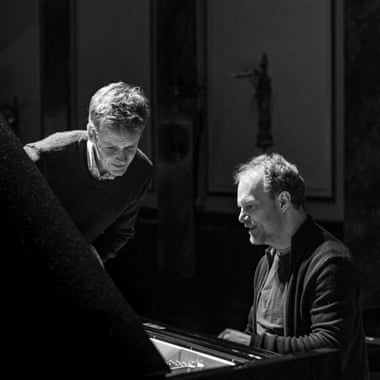 We went on to tour, making a speciality of Schubert's Schwanengesang and Beethoven's An die ferne Geliebte, songs of farewell and absence which seem especially poignant now that he has died, aged only 51. At the end of 2019 we took them to Moscow together. He was worried I might get cold and gave me his woolly hat. His embrace of Russian culture and language was obvious; his public stand against Russian aggression in the wake of the invasion of Ukraine was, equally, a vigorous and eloquent one.
Last year, with the pandemic still hanging over us, he managed against the odds to revive his festival in the far west of Germany, Heimbach. We all stayed together in a little hotel in this small town near where Lars had grown up; we performed in an early 20th-century hydroelectric power station that Lars had commandeered for the week; we ate together and after supper we all played a sort of crazed version of table tennis in the basement. It was an ideal of what convivial chamber music can be, and Lars (already seriously ill) had gathered around him his dearest friends from more than 20 years of intensely familial music making. As he slipped away in hospital a couple of days ago two of them, the violinists Christian Tetzlaff and Antje Weithaas, played to him to ease his way.
I last saw Lars in January with his orchestra, the Orchestre de Chambre de Paris. I hadn't seen him conduct before but, in rehearsal, I was struck not only by his total dedication to the music (Mahler, Strauss, Fauré and Britten) but also by the wonderful atmosphere of collaboration and friendship he created with the orchestra. This was chamber music writ large, just as it should be. At the end of the concert we moved to the side of the stage of the Theatre des Champs Elysées, Lars sat at the piano and did that thing again, lifting Schubert's Nacht und Träume off the page and into the heavens.
Source link